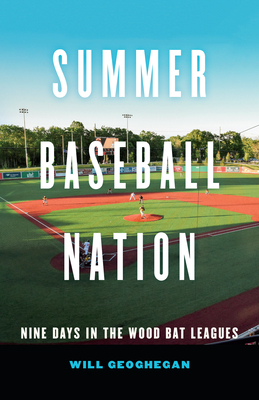 Summer Baseball Nation: Nine Days in the Wood Bat Leagues
Publication Date:
April 1st, 2020
Publisher:
University of Nebraska Press
Charter Books
On hand, as of Sep 30 12:37am
(Sports & Recreation)
On Our Shelves Now
Description
The college baseball season doesn't end when the school year is finished. Many of the top NCAA Division I, II, and III baseball players continue to play in one of the game's most unique environments, the summer wood bat leagues. They swap aluminum bats for wood and play from June through August in more than forty states. The poetry of America's pastime persists as soon-to-be stars such as Gordon Beckham, Buster Posey, and Aaron Judge crash in spare bedrooms and play for free on city and college ball fields.
Summer Baseball Nation chronicles a season in America's summer collegiate baseball leagues. From the Cape to Alaska and a lot of places in between, Will Geoghegan tells the stories of a summer: eighteen of the best college players in the country playing Wiffle ball on Cape Cod, the Midnight Sun Game in Alaska, a California legend picking up another win, home runs flying into Lake Michigan, and the namesake of an old Minor League club packing the same charming ballpark. At every stop, players chase dreams while players and fans alike savor the moment.
 
Praise for Summer Baseball Nation: Nine Days in the Wood Bat Leagues
"A charming book about a charming element of American life."—David M. Shribman, Wall Street Journal
"This book is highly recommended to readers as an enjoyable and informative baseball history."—Anna R. Newton, NINE: A Journal of Baseball History and Culture
"This is an informative examination of an overlooked form of grassroots baseball that, for some players, can be an important step to the major leagues."—Wes Lukowsky, Booklist
"Reading this makes one realize that there is so much more to the game than just the big money and big statistics. This book is baseball at the grass roots and it is so much fun to read that it comes highly recommended for any baseball fan."—Guy Who Reviews Sports Books
"Will Geoghegan's beautifully written and richly detailed Summer Baseball Nation reminds one of why baseball—in its purest and most innocent form—is still the greatest of all sports."—Erik Sherman, New York Times best-selling coauthor of After the Miracle: The Lasting Brotherhood of the '69 Mets
"If you've ever felt like pulling off the road to witness the last stop before WAR and OPS and WHIP stats overpower grassroots baseball, this is the book for you. Feel the breeze of a Cape Cod summer and the sound of wood bats hitting baseballs. Love this book."—Marty Appel, New York Yankees historian and author of Pinstripe Empire and Casey Stengel