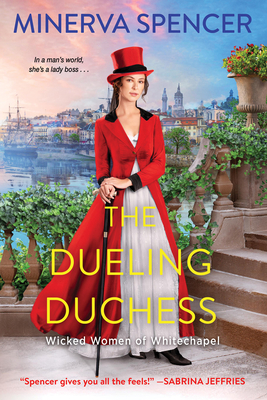 The Dueling Duchess: A Sparkling Historical Regency Romance (Wicked Women of Whitechapel #2)
Publication Date:
May 23rd, 2023
In Stock at Warehouse - Usually Arrives in 3-7 Days
Description
"Another carefully calibrated mix of steamy passion, delectably dry humor, and daringly original characters." —Booklist STARRED REVIEW
In the newest of her witty, Regency-set, feminist romances exploring the roles of women in a rigidly patriarchal society, the acclaimed author of Notorious hits the mark with expert sharpshooter, London circus attraction, and French expat Cecile Tremblay. Bridgerton fans will delight in the rapier sharp wit, sexual fireworks, and thought-provoking entertainment of the Wicked Women of Whitechapel.
When Cecile Tremblay lost everyone and everything in the French Revolution, she never imagined that she'd earn her living as a markswoman in a London circus. But Farnham's Fantastical Female Fayre has become her home, her family, and her future. Another thing Cecile never imagined was becoming entangled with the man gossip columns call The Darling of the Ton. But mere weeks after her rejection of his insulting carte blanche—and his infuriating engagement to an heiress—Darlington is back, this time to beg Cecile for help. And help him she will, by teaching him about honest work—and the right way to treat a woman.
Gaius Darlington has always led a charmed life. Until now. Suddenly, a long-lost heir has appeared to claim his title, possessions, and property, Not only that, but Guy's fiancée has jilted him to marry the usurper! Yet there is a silver lining: it's no longer Guy's duty to marry an heiress to save the dukedom. He's free to wed the woman he loves—if only he can earn her forgiveness.
They say hell hath no fury like a woman scorned. But fury is just a step away from passion, and Guy knows just how to arouse Cecile's. . .
Praise for Minerva Spencer's Rebels of the Ton series
"Brilliantly crafted . . . an irresistible cocktail of smart characterization, sophisticated sensuality, and sharp wit." —Booklist (STARRED REVIEW)
"Sparkling . . . impossible not to love." —Popsugar
Praise for The Dueling Duchess: A Sparkling Historical Regency Romance (Wicked Women of Whitechapel #2)
Praise for Minerva Spencer's The Boxing Baroness, Book 1 in The Wicked Women of Whitechapel
 
"With the launch of her swooningly romantic, sizzling sensual new Regency-set Wild Women of Whitechapel series, Spencer delivers her own one-two knockout punch with a superbly realized cast of characters that includes an intriguingly different yet historically credible heroine and an exhilarating plot that not only delves into the fascinating world of female pugilism—Marianne is based on a historical figure, Mary Anne Pearce—but also deftly illuminates the dangerous state of affairs in France after Napoleon escaped from Elba." —Booklist, STARRED REVIEW
 
"Spencer launches her Wicked Women of Whitechapel Regency series with an outstanding romance based in part on a real historical figure…Spencer ramps up the mystery and the romance in equal measure as the threat of Dominic and the knowledge that society would be unaccepting of their relationship hover over the captivating couple. This is sure to wow." —Publishers Weekly, STARRED REVIEW
 
"Fans of historical romances with strong female characters in non-traditional roles and the men who aren't afraid to love them won't be disappointed by this series starter." —Library Journa, STARRED REVIEW
 
"Sparkling . . . impossible not to love." —Popsugar

"I've never read a historical romance featuring a professional woman boxer, but this one is set to change that!" —BookRiot on The Boxing Baroness