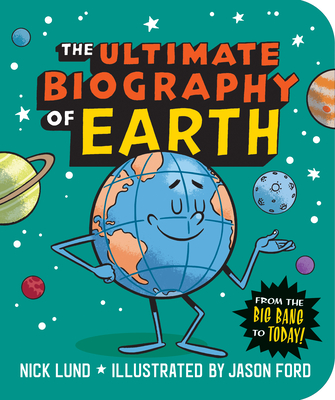 The Ultimate Biography of Earth: From the Big Bang to Today!
Publication Date:
March 29th, 2022
Publisher:
Workman Publishing Company
Charter Books
On hand, as of Dec 2 2:07am
(Children - Elementary)
On Our Shelves Now
Description
Ever wonder how this place we call home came to be? Four and a half billion years of Earth's history is presented here in a humorous, illustrated, and entirely true version of events from the Big Bang to today!
 
It started with a Bang. The Big Bang to be exact. And it continues with YOU! Here is the story of the Earth from the chaotic Hadean eon with its huge oceans of molten rock to today's Cenozoic era, aka the Age of Mammals (and that includes us humans). Along the way, meet some of the planet's wildest life-forms—from the first cells to the trilobites and other arthropods, the first fish that evolved jaws, insects, trees, sharks, dinosaurs, mammals, and more! Watch the continents separate, crash together again, and reform into the land masses we know today. And get a better understand of our climate reality through an eyewitness view of Earth's major mass extinction events. Told in a lively, illustrated biography form to deliver its cutting-edge science in the most compelling way—this is the ultimate story of the best home in the galaxy!
 
And don't miss the author's next book: Dinosaurs to Chickens—How Evolution Works! On sale August 2024.
Praise for The Ultimate Biography of Earth: From the Big Bang to Today!
"An entertaining and educational read, The Ultimate Biography of Earth is a delightful journey through the history of the universe with a focus on Earth and life. Highly recommend for curious children who are elementary and middle school aged."
— YABC
The Ultimate Biography of Earth is a treasure trove of fun facts and knowledge about our planet's history. Arranged in a clear, engaging chronological format, this book invites readers to see the Earth as a friend with a storied past—and a future worth protecting.
— Rosemary Mosco, best-selling science writer naturalist
By taking us back to the beginning of time, Nick Lund and Jason Ford guide us on an engaging and richly-illustrated adventure that will help kids not only understand the world around us, but our place in it. This book is so fun and contains so many engaging illustrations that most readers will not even realize how much they have learned about the world around us, and how much it has changed.
—David Steen, wildlife scientist and author