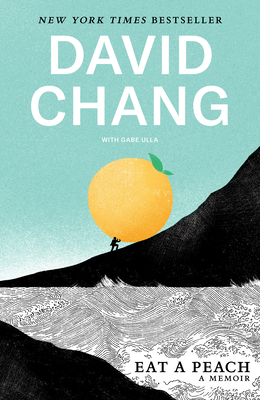 Eat a Peach: A Memoir
Publication Date:
May 24th, 2022
Publisher:
Clarkson Potter
In Stock at Warehouse - Usually Arrives in 3-7 Days
This memoir by renowned chef David Chang is less a traditional memoir and more about the trials and tribulations of opening your own business, how to build and maintain a team of people, and the ups and downs of what it feels like to have all the weight on your shoulders. I relate to his story, and anyone who's ever tried to build something from nothing will feel like Chang is speaking directly to them. I loved this book.
September 2020 Indie Next List
Description
NEW YORK TIMES BESTSELLER • From the chef behind Momofuku and star of Netflix's Ugly Delicious—an intimate account of the making of a chef, the story of the modern restaurant world that he helped shape, and how he discovered that success can be much harder to understand than failure.

ONE OF THE BEST BOOKS OF THE YEAR: NPR, Fortune, Parade, The New York Public Library, Garden & Gun
In 2004, Momofuku Noodle Bar opened in a tiny, stark space in Manhattan's East Village. Its young chef-owner, David Chang, worked the line, serving ramen and pork buns to a mix of fellow restaurant cooks and confused diners whose idea of ramen was instant noodles in Styrofoam cups. It would have been impossible to know it at the time—and certainly Chang would have bet against himself—but he, who had failed at almost every endeavor in his life, was about to become one of the most influential chefs of his generation, driven by the question, "What if the underground could become the mainstream?"
 
Chang grew up the youngest son of a deeply religious Korean American family in Virginia. Graduating college aimless and depressed, he fled the States for Japan, hoping to find some sense of belonging. While teaching English in a backwater town, he experienced the highs of his first full-blown manic episode, and began to think that the cooking and sharing of food could give him both purpose and agency in his life.
Full of grace, candor, grit, and humor, Eat a Peach chronicles Chang's switchback path. He lays bare his mistakes and wonders about his extraordinary luck as he recounts the improbable series of events that led him to the top of his profession. He wrestles with his lifelong feelings of otherness and inadequacy, explores the mental illness that almost killed him, and finds hope in the shared value of deliciousness. Along the way, Chang gives us a penetrating look at restaurant life, in which he balances his deep love for the kitchen with unflinching honesty about the industry's history of brutishness and its uncertain future.

Praise for Eat a Peach: A Memoir
"With humor, pathos and heaping spoonsful of self-deprecation . . . Eat a Peach is an honest, ugly, raw dish of a book."—The Wall Street Journal
 
"An honest and vulnerable autobiography that will have you laughing and crying at the same time . . . an absolute must-read."—CNN
"David Chang is one of the most beloved chefs on earth, but his inspiring memoir is not just for foodies. He's one of the most audaciously openhearted and honest humans you'll ever find. This book is for anyone who has ever felt like an underdog or an underachiever—or aspires to become an entrepreneur or a more decent person."—Adam Grant, New York Times bestselling author of Originals and Give and Take, and host of the TED podcast WorkLife
"Eat a Peach is not merely an autobiography of a great creative; rather, it's a compelling philosophy of a man who believes in a beautiful life beyond reach. It is profoundly gratifying to witness Chang marching uphill, step by step, toward his sublime vision. As Chang suffers, rages, and fights for his quest, we can't help but admire his vulnerability, courage, and conviction."—Min Jin Lee, author of Free Food for Millionaires and Pachinko, a finalist for the National Book Award
"Dave Chang's writing is honest and vulnerable. As a child of immigrants, the DNA of his story spoke to me. Now I just have to keep up with his drive and tenacity!"—Hasan Minhaj, host of Patriot Act with Hasan Minhaj
"If you're looking for a cookbook, this is a terrible choice. Herein you will find the recipe for one of our brightest, most energetic, talented, and inspiring Americans (who also happens to be a chef). David Chang is a great storyteller with a great story to tell."—Jimmy Kimmel, host of Jimmy Kimmel Live!
 
"This is one of the most compelling chef memoirs in recent memory. . . . Chang's writing is engaging and his story is stirring, humorous, and compulsively readable."—Shondaland
 
"Just like the food from his famed Momofuku restaurants is must-devour, Chang's memoir is a must-read."—E! News
"David Chang is one of the world's most creative chefs, but it wasn't obvious he would become that. I was absolutely enthralled by his underdog story, which he tells with passion, humor, and skill. Don't miss this incredible memoir!"—Brian Grazer, New York Times bestselling author of A Curious Mind and cofounder of Imagine Entertainment

"An entertaining, admirably candid self-assessment of life in the foodie fast lane."—Kirkus Reviews
"Foodies and chefs alike will dig into Chang's searing memoir."—Publishers Weekly (starred review)