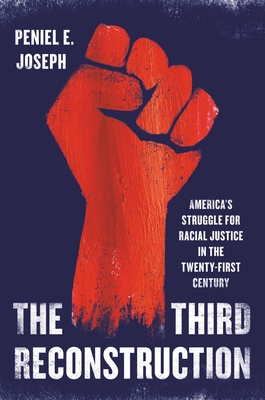 The Third Reconstruction: America's Struggle for Racial Justice in the Twenty-First Century
Publication Date:
September 6th, 2022
Charter Books
On hand, as of Dec 6 12:52am
(History - U.S.)
On Our Shelves Now
Description
One of our preeminent historians of race and democracy argues that the period since 2008 has marked nothing less than America's Third Reconstruction
In The Third Reconstruction, distinguished historian Peniel E. Joseph offers a powerful and personal new interpretation of recent history. The racial reckoning that unfolded in 2020, he argues, marked the climax of a Third Reconstruction: a new struggle for citizenship and dignity for Black Americans, just as momentous as the movements that arose after the Civil War and during the civil rights era. Joseph draws revealing connections and insights across centuries as he traces this Third Reconstruction from the election of Barack Obama to the rise of Black Lives Matter to the failed assault on the Capitol.
America's first and second Reconstructions fell tragically short of their grand aims. Our Third Reconstruction offers a new chance to achieve Black dignity and citizenship at last—an opportunity to choose hope over fear.
Praise for The Third Reconstruction: America's Struggle for Racial Justice in the Twenty-First Century
"Searingly relevant." —Washington Post
"The Third Reconstruction is full of insights."—New York Times Book Review
"Beautifully contextualizing and exploring the 21st-century struggles for racial justice through the historical lens of America's First and Second Reconstructions. By weaving his personal experience with searing history, Joseph demonstrates how Black history helps us to chart our path forward, if only we collectively acknowledge and sit with it first."—Smithsonian
"Gracefully written, clearly argued and rich in research and detail, The Third Reconstruction gives us a path to understand the past and make sense of the present."—Tampa Bay Times
"Impassioned and immersive… Amid the incisive historical analysis of battles between 'reconstructionists' pushing for a true multiracial democracy and 'redemptionists' seeking to 'reinscribe slavery's power relations,' Joseph interweaves moving reflections on his experiences growing up in Jamaica, Queens in the 1980s. The result is an essential reframing of America's past and present."—Publishers Weekly, starred review
"A noted scholar of political history offers a hopeful vision of a future in which Black Americans take their places as full, equal citizens of the U.S… Joseph successfully links episodes in the struggle for civil rights to form a continuum of injustice and resolution."—Kirkus
"A masterpiece that not only captures the last 150 years, but also paints a picture of what the future might look like… Joseph honors his mother, his Haitian American roots, and his education in a way that powerfully notes the Black experience – one that is both hopeful and harrowing."
—Christian Science Monitor
"Peniel E. Joseph is one of the most brilliant and gifted historians in the nation today. With a deft pen and a lucid eye, he limns the outlines of a new struggle for radical equality that has risen from the ashes of two noble but failed efforts in previous eras to make justice sing. The Third Reconstruction is a soulful love song to the epic struggles of chastened but hopeful citizens to pursue yet again their long delayed arrival to the shores of real freedom and true democracy."
 —Michael Eric Dyson, author of the New York Times bestseller Tears We Cannot Stop
"In The Third Reconstruction, renowned historian Peniel Joseph expertly draws on his remarkable breadth of knowledge to tell a powerful and interwoven story about three watershed moments in American history. Brilliantly written and elegantly argued, this book is a gift to all Americans. It offers an honest and compelling account of how change happens, and it forces us all to consider how we might work together to win the fight for racial justice."—Keisha N. Blain, coeditor of the No. 1 New York Times bestseller Four Hundred Souls and award-winning author of Until I Am Free
"In this searching, often searing, account of our recent past and of our still-unfolding present, Peniel E. Joseph writes in the tradition of Du Bois and of Baldwin as he seeks to delineate how tragedy might give way to true justice. Personal and political, human and historical, Joseph's book is urgent, important, and illuminating."—Jon Meacham
"Peniel E. Joseph's The Third Reconstruction offers a brilliant historical analysis of race relations in twenty-first-century America. Whether he is discussing Barack Obama or Martin Luther King, Jr., the Black Power Movement of the Long Sixties or the Black Lives Matter zeitgeist of today, Joseph is superb. He is fierce when it comes to promoting racial equality. The Third Reconstruction is an awesome achievement."
 —Douglas Brinkley, New York Times–bestselling author of Rosa Parks
"Peniel E. Joseph's The Third Reconstruction is a powerful and eloquent analysis of the enduring battle between opponents of multiracial democracy and forces of racial change across American history. Drawing parallels to the period of Redemption after the Civil War, Joseph persuasively situates the white backlash to the presidency of Barack Obama—captured in the rise of Donald Trump and MAGA—within the long, but frequently ignored, history of organized white resistance to Black freedom. Part historical investigation and part call to action, The Third Reconstruction is a towering achievement that brilliantly meets the moment."—Tomiko Brown-Nagin, author of Civil Rights Queen
"Anyone genuinely interested in understanding the relationship between America's racial history and our current political and moral turmoil should read every word of Peniel E. Joseph's The Third Reconstruction. For while Joseph writes that 'the clash between reconstruction and redemption is continuing,' he also insists that 'things are afoot that show change is possible,' that 'a new political world is being created,' not least with the work of a new generation of Black grassroots organizers—especially Black women—and, yes, their white supporters. The Third Reconstruction is a book that could help us all create that world. As Joseph writes: 'These dark parts of our past underscore how a nightmare can still be a dream.'"—Charlayne Hunter-Gault, prizewinning journalist
"The best books I encounter are always those that make me think, feel, and, most of all, dream. This book didn't just weigh heavy on my mind, it crawled its way into my imagination, shaking up my politics, bringing meaning to my story, and ultimately, igniting my commitment to work for a more loving and just world. The Third Reconstruction by Peniel E. Joseph is not just a must-read, it fills in the gaps in American history and memoir, pulling from the black literary, radical, and religious traditions and thereby becoming what the American jeremiad must be: salvation for the soul of the country and liberation for the heart."
 —Danté Stewart, author of Shoutin' In The Fire
"Peniel E. Joseph is one of the most important minds alive today, bar none. His latest book, The Third Reconstruction, is a masterclass on the painful process America must dare to undertake to become a land of true justice and equity. Like the brilliant The Sword and The Shield, The Third Reconstruction combines a delightfully readable narrative with elegant academic insights that leave the reader feeling like they got schooled, without having to go back to school. A marvel, and so necessary."
 —Van Lathan, Jr., author of Fat, Crazy, and Tired