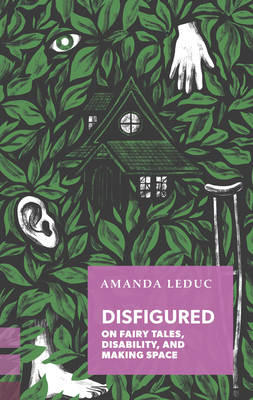 Disfigured: On Fairy Tales, Disability, and Making Space (Exploded Views)
Publication Date:
March 3rd, 2020
Publisher:
Coach House Books
Charter Books
On hand, as of Dec 2 2:07am
(Mythology & Folklore)
On Our Shelves Now
Description
A CBC BOOKS BEST NONFICTION OF 2020
AN ENTROPY MAGAZINE BEST NONFICTION 2020/21
A NEW YORK PUBLIC LIBRARY BOOK OF THE DAY (07/23/2022)

Fairy tales shape how we see the world, so what happens when you identify more with the Beast than Beauty?
If every disabled character is mocked and mistreated, how does the Beast ever imagine a happily-ever-after? Amanda Leduc looks at fairy tales from the Brothers Grimm to Disney, showing us how they influence our expectations and behaviour and linking the quest for disability rights to new kinds of stories that celebrate difference.
"Historically we have associated the disabled body image and disabled life with an unhappy ending" - Sue Carter, Toronto Star
"Leduc persuasively illustrates the power of stories to affect reality in this painstakingly researched and provocative study that invites us to consider our favorite folktales from another angle." - Sara Shreve, Library Journal
"She Leduc] argues that template is how society continues to treat the disabled: rather than making the world accessible for everyone, the disabled are often asked to adapt to inaccessible environments." - Ryan Porter, Quill & Quire
"Read this smart, tenacious book." - The Washington Post
"A brilliant young critic named Amanda Leduc explores this pernicious power of language in her new book, Disfigured ... Leduc follows the bread crumbs back into her original experience with fairy tales - and then explores their residual effects ... Read this smart, tenacious book." - The Washington Post
"Leduc investigates the intersection between disability and her beloved fairy tales, questioning the constructs of these stories and where her place is, as a disabled woman, among those narratives." - The Globe and Mail
"It gave me goosebumps as I read, to see so many of my unexpressed, half-formed thoughts in print. My highlighter got a good workout." - BookRiot
"Disfigured is not just an eye-opener when it comes to the Disney princess crew and the Marvel universe - this thin volume provides the tools to change how readers engage with other kinds of popular media, from horror films to fashion magazines to outdated sitcom jokes." - Quill & Quire
"It's an essential read for anyone who loves fairy tales." - Buzzfeed Books
"Leduc makes one thing clear and beautifully so - fairy tales are fundamentally fantastic, but that doesn't mean that they are beyond reproach in their depiction of real issues and identities." - Shrapnel Magazine
"As Leduc takes us through these fairy tales and the space they occupy in the narratives that we construct, she slowly unfolds a call-to-action: the claiming of space for disability in storytelling." - The Globe and Mail
"A provocative beginning to a thoughtful and wide-ranging book, one which explores some of the most primal stories readers have encountered and prompts them to ponder the subtext situated there all along." - LitHub
"a poignant and informative account of how the stories we tell shape our collective understanding of one another." - BookMarks
"What happens when we allow disabled writers to tell stories of disability within fairytales and in magical and supernatural settings? It is a reimagining of the fairytale canon we need. Leduc dares to dream of a world that most stories envision is unattainable." - Bitch Media