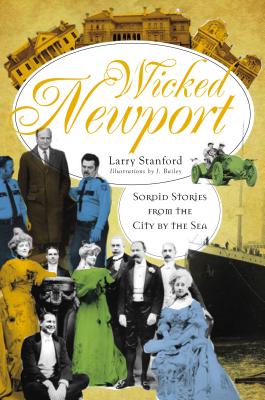 Wicked Newport: Sordid Stories from the City by the Sea
Publication Date:
July 1st, 2008
In Stock at Warehouse - Usually Arrives in 3-7 Days
Description
Take a trip with Larry Stanford through 350 years of Newport's hidden, dark history.
Founded by a small band of religious freedom seekers in 1639, Newport, Rhode Island, subsequently became a bustling colonial seaport teeming with artists, sailors, prosperous merchants and, perhaps most distinctively, the ultra-rich families of the Gilded Age. Clinging to the lavish coattails of these newly minted millionaires and robber barons was a stream of con artists and hangers-on who attempted to leech off their well-to-do neighbors. From the Vanderbilts to the Dukes, the Astors to the Kennedys, the City by the Sea has served as a sanctuary for the elite, and a hotbed of corruption. Local historian Larry Stanford pulls back the curtain on over 350 years of history, uncovering the real stories behind many of Newport's most enduring mysteries, controversial characters and scintillating scandals.