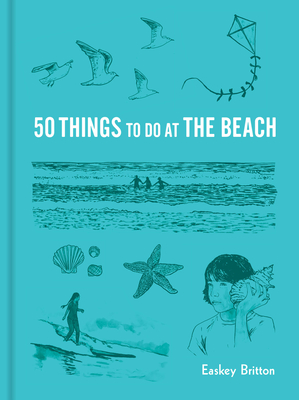 50 Things to Do at the Beach (Explore More)
Publication Date:
May 4th, 2021
Publisher:
Princeton Architectural Press
In Stock at Warehouse - Usually Arrives in 3-7 Days
Description
50 Things to Do at the Beach transforms a day in the sand and sun into a meaningful and inspiring return to nature. Environmental scientist and professional surfer Easkey Britton teaches us how to peek into the mysterious deep, harness the calming nature of the sea, and engage in fun play, like wave running and swimming.
The latest addition to our Explore More series, 50 Things to Do at the Beach shows us how to enjoy the many health benefits of time spent by the sea and give back to the waters that sustain us. Kid-friendly activities make this a must-have for families enjoying time together by the sea, ocean, or lake. Vacationers and seadwellers alike will find new and unexpected ways to enjoy the water. Each section is beautifully illustrated to explain the activities and bring the message to life. Surf's up!
Praise for 50 Things to Do at the Beach (Explore More)
"The science- and mindfulness-based activities suggested in Easkey Britton's 50 Things to Do at the Beach-think seabird watching or rock pooling-come in an accessible format conducive to quick dips."
- Publishers Weekly
"Britton includes responsible coastal activities in her new book, 50 Things to Do at the Beach, such as learning to read riptides or foraging for seaweed sustainably.  The book is about both what the ocean can do for us and what we can do for it. Understanding how our health and wellness is supported by water 'kind of shifts our perspective on it a little bit,' Britton said, rather than seeing it as 'something that's just [where we] go to on holidays.'"
- The Washington Post,
"Kids at the beach can go deeper - literally and figuratively - into the sea with tips from environmental scientist and professional surfer Britton. Part of the publisher's "Explore More" series (previous titles include "50 Things to See in the Sky" and "50 Things to Do in the Wild"), this book explores our connection to the ocean and its health."
- Associated Press,