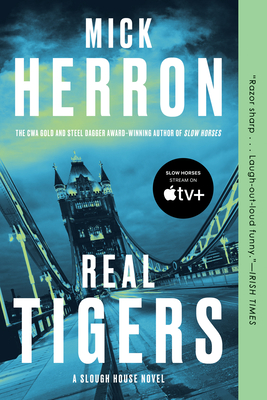 Real Tigers (Slough House #3)
Publication Date:
January 3rd, 2017
Charter Books
On hand, as of Dec 2 2:07am
(Mystery & Suspense)
On Our Shelves Now
Description
When one of their own is kidnapped, the washed-up MI5 operatives of Slough House—the Slow Horses, as they're known—outwit rogue agents at the very highest levels of British Intelligence, and even to Downing Street itself.
London: Slough House is the MI5 branch where disgraced operatives are reassigned after they've messed up too badly to be trusted with real intelligence work. The "Slow Horses," as the failed spies of Slough House are called, are doomed to spend the rest of their careers pushing paper, but they all want back in on the action.
When one of their own is kidnapped and held for ransom, the agents of Slough House must defeat the odds, overturning all expectations of their competence, to breach the top-notch security of MI5's intelligence headquarters, Regent's Park, and steal valuable intel in exchange for their comrade's safety. The kidnapping is only the tip of the iceberg, however—the agents uncover a larger web of intrigue that involves not only a group of private mercenaries but the highest authorities in the Secret Service. After years spent as the lowest on the totem pole, the Slow Horses suddenly find themselves caught in the midst of a conspiracy that threatens not only the future of Slough House, but of MI5 itself.
Praise for Real Tigers (Slough House #3)
Praise for Real Tigers
A Boston Globe Best Book of the Year
A Telegraph Best Crime Novel of the Year
Shortlisted for the CWA Gold Dagger Award for Best Crime Novel
Shortlisted for the CWA Ian Fleming Steel Dagger Award for Best Thriller
"[Herron's] cleverly plotted page-turners are driven by dialogue that bristles with one-liners. Much of the humor comes from Herron's sharp eye for the way bureaucracies, whether corporate or clandestine, function and malfunction. The world of Slough House is closer to The Office than to 007."
—The Associated Press
"A pulsating spy thriller about a kidnapped fallen spy whose colleagues uncover a plot threatening the future of the security service."
—The Daily Express (UK)
"[Herron is the] le Carré of the future . . . The characters are brilliant."
—Patrick Neale on BBC's The Oxford Book Club
"Heroic struggles, less-heroic failures and a shoot-out-cum-heist . . . with no let-up in the page turning throughout."
—Esquire
"If you read one spy novel this year, read Real Tigers. Better still, read the whole series."
—The Spectator
"[Reads] like an episode of Spooks written by Ricky Gervais . . . With his poet's eye for detail, his comic timing and relish for violence, Herron fills a gap that has been yawning ever since Len Deighton retired."
—The Daily Telegraph, ★★★★★
"Masterful . . . Deliciously tongue-in-cheek and with a strikingly serpentine construction, it is a thriller that moves Herron close to the class of Graham Greene."
—The Daily Mail
"All the action you might want from an espionage thriller is to be found in Real Tigers, with betrayal, double-dealing and a fantastically violent climax in an underground facility, but the true pleasures of Mick Herron's Gold Dagger-winning Slough House series lie elsewhere: in the sharp wit and dry irony and elegant grace of the prose, the razor-sharp characterisation . . . Think Le Carré with fewer posh people and laugh-out-loud funny. Mick Herron is the real deal."
—Irish Times
"[The Slough House series is] among the finest British spy fiction of the past 20 years . . . Real Tigers sees them dragged center stage when the kidnap of Lamb's assistant sets into motion a narrative of breathtaking ingenuity. Brilliant."
—London Metro
"Satire, verbal sparring and gunfights are deftly combined in a excellently written novel permeated by Herron's sly, dry and very English sense of humour—rather as if Philip Larkin or Alan Bennett had had a go at spy fiction."
—The Sunday Times (London)
"Brilliantly twisty . . . Fun and thrilling in equal measure, Real Tigers is an absolute joy."
—The Mail on Sunday
"Deviously clever."
—StopYou'reKillingMe.com
"Herron's is the next big name in crime fiction."
—The Literary Review
"The labyrinthine plot takes off like a NASA rocket . . . What makes this work is top-notch writing and characterization. Thanks to crisp, clever dialogue, the reader is quickly drawn into the odd camaraderie of the Slough House team and their specific quirks."
—Mystery Scene

"Herron's strength is in examining at close hand the absurdities, conflicts, and dangers of the intelligence agency as an institution at the center of some of the most central conflicts in the 21st century."
—Los Angeles Review of Books
"It is impossible not to be impressed by Herron's use of language . . . A thoroughly entertaining tale."
—CrimeReview.com
"Misdirection abounds as the Slow Horses work to save their fellow agent and thwart a devious government conspiracy . . . I certainly enjoyed all the little surprising plot twists along the way to the wickedly delightful conclusion."
—FreshFiction
"A wondrous thing . . . Slough House is a marvelous invention."
—Reviewing The Evidence
"To say this is a great read is an understatement. This book is not your usual thriller 'good vs. bad.' It's much more like always looking for someone to blame as the action and humor continue to skyrocket. " 
—Suspense Magazine
"The disgraced spies at MI5's Slough House must try to save one of their own in CWA Gold Dagger Award–winner Herron's outstanding third thriller . . . Herron expertly juggles multiple plot lines and fully formed characters, injecting everything with a jolt of black humor."
—Publishers Weekly, Starred Review
"[A] tour de force, in which virtually every single player—good guys, bad guys, all the turncoats and in-betweeners—is somehow connected to British Intelligence."
—Kirkus Reviews
"At heart, there is solid seriousness here as the new Home Secretary unleashes a tiger team (in which your own side tests you to the limit) to expose the weaknesses of British intelligence . . . Readers love this series for its breezy treatment of espionage in which you get to cheer for the underdogs while also showing respect for their opponents. Characters are drawn with the sharpest possible pen."
—Library Journal

Praise for Dead Lions

Winner of the 2013 CWA Gold Dagger for Best Crime Novel of the Year
A BBC Front Row Best Crime Novel of the Year
A Times Crime and Thriller Book of the Year
A Sunday Times Top 50 Crime and Thriller Book of the Past 5 Years
"Delightful . . . with a dry humor reminiscent of Greene and Waugh."
—The Sunday Times
"A great romp."
—Jeff Park, BBC Front Row
"Clever and funny."
—The Times

"Unbeatable entertainment for thriller fans."
—Library Journal, Starred Review
"Funny, clever . . . Genuinely thrilling. The novel is equally noteworthy for its often lyrical prose."
—Publishers Weekly, Starred Review
Praise for Mick Herron
"The sharpest spy fiction since John le Carré."
—NPR's Fresh Air
"Compulsively readable, tightly plotted."
—Los Angeles Times