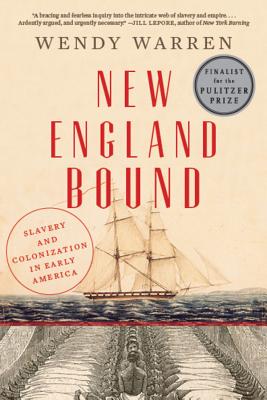 New England Bound: Slavery and Colonization in Early America
Publication Date:
May 9th, 2017
In Stock at Warehouse - Usually Arrives in 3-7 Days
Description
Finalist for the Pulitzer Prize in History
A New York Times Notable Book
A New York Times Book Review Editors' Choice Selection
A Providence Journal Best Book of the Year
Winner of the Organization of American Historians Merle Curti Award for Social History
Finalist for the Harriet Tubman Prize
Finalist for the Berkshire Conference of Women Historians Book Prize
"This book is an original achievement, the kind of history that chastens our historical memory as it makes us wiser." —David W. Blight, author of Frederick Douglass: Prophet of Freedom
Finalist for the Pulitzer Prize
Widely hailed as a "powerfully written" history about America's beginnings (Annette Gordon-Reed), New England Bound fundamentally changes the story of America's seventeenth-century origins. Building on the works of giants like Bernard Bailyn and Edmund S. Morgan, Wendy Warren has not only "mastered that scholarship" but has now rendered it in "an original way, and deepened the story" (New York Times Book Review). While earlier histories of slavery largely confine themselves to the South, Warren's "panoptical exploration" (Christian Science Monitor) links the growth of the northern colonies to the slave trade and examines the complicity of New England's leading families, demonstrating how the region's economy derived its vitality from the slave trading ships coursing through its ports.
And even while New England Bound explains the way in which the Atlantic slave trade drove the colonization of New England, it also brings to light, in many cases for the first time ever, the lives of the thousands of reluctant Indian and African slaves who found themselves forced into the project of building that city on a hill. We encounter enslaved Africans working side jobs as con artists, enslaved Indians who protested their banishment to sugar islands, enslaved Africans who set fire to their owners' homes and goods, and enslaved Africans who saved their owners' lives. In Warren's meticulous, compelling, and hard-won recovery of such forgotten lives, the true variety of chattel slavery in the Americas comes to light, and New England Bound becomes the new standard for understanding colonial America.
Praise for New England Bound: Slavery and Colonization in Early America
Whereas most studies of slavery in the United States concern the antebellum South, this one stakes out less visited territory—the laws and decisions made by the colonists in New England two centuries earlier.
— The New Yorker
[Warren] builds on and generously acknowledges more than two generations of research into the social history of New England and the economic history of the Atlantic world. But not  only has she mastered that scholarship, she has also brought it together in an original way, and deepened the story with fresh research…New England Bound conveys the disorientation, the deprivation, the vulnerability, the occasional hunger and the profound isolation that defined the life of most African exiles in Puritan New England, where there was no plantation community.
— Christopher L. Brown - New York Times Book Review
'Slavery was in England's American colonies, even its New England colonies, from the very beginning,' explains Princeton historian Wendy Warren in her deeply thoughtful, elegantly written New England Bound....The greatest revelations of New England Bound lie in Warren's meticulous reconstruction of slavery in colonial New England....Warren pores over the patchy archival record with a probing eye and an ear keen to silences.
— Maya Jasanoff - New York Review of Books
[Warren] widens the lens to show the early New England economy was enmeshed in the seafaring trade that developed between four Atlantic continents for the transport, clothing, and feeding of African captives. The region's early growth and prosperity, Warren shows, sprang from that tainted commerce. . . . Southerners resentful of Northerners' condescension about the slaveholding past may find some comfort in these pages. In them should be some Northern discomfort too.
— Kenneth J. Cooper - Boston Globe
Historians have written penetratingly on North American colonial racism and slavery—Edmund Morgan, Alden Vaughan, Ira Berlin, for starters—but New England Bound is a smart contribution to the New England story, a panoptical exploration of how slavery took root like a weed in the crack of a sidewalk. . . . What we have in this account is sharp explication of the 'deadly symbiosis' of colonization and slavery, written with a governed verve that perks like a coffee pot. It makes the New England story that much fuller, challenging, and more accountable.
— Peter Lewis - Christian Science Monitor
A bracing and fearless inquiry into the intricate web of slavery and empire into which all New Englanders were bound. Ardently argued, and urgently necessary.
— Jill Lepore, author of New York Burning
A beautifully written, humane and finely researched work that makes clear how closely intermingled varieties of slavery and New England colonization were from the very start. With great skill, Warren does full justice to the ideas of the individuals involved, as well as to the political and economic imperatives that drove some, and that trapped and gravely damaged others.
— Linda Colley, author of Captives: Britain, Empire, and the World, 1600-1850
Wendy Warren's deeply researched and powerfully written New England Bound opens up a new vista for the study of slavery and race in the United States. It will transform our thinking about seventeenth-century New England.
— Annette Gordon-Reed, author of The Hemingses of Monticello, winner of the Pulitzer Prize
New England Bound is a book of revelations. Not only does Wendy Warren cast startling new light on early America, not only does she uncover how racial slavery was woven into the fabric of New England from the very beginning, but she also shows how forgotten folk—people long thought lost to history—can be brought to light, and to life, if we look, and listen, for their stories. A remarkable achievement.
— James Merrell, author of Into the American Woods, winner of the Bancroft Prize
With intrepid research and stunning narrative skill, Wendy Warren demonstrates how much seventeenth-century New England societies were dependent on the West Indian slave trade, and especially on the labor, bodies, and lives of black slaves. Warren has turned the prophetic lessons of Ecclesiastes back upon the Puritan fathers with scholarly judgment, humanizing both them and the people they enslaved. This book is an original achievement, the kind of history that chastens our historical memory as it makes us wiser.
— David W. Blight, Yale University, author of Race and Reunion
In New England Bound, Wendy Warren builds a powerful case for the centrality of slavery to the economy of the Puritan colonies in the North.
— Joyce Appleby, author of The Relentless Revolution
A major contribution to the history of enslavement, of African Americans, of early New England society, and—most important—of the sinews and tissues at the center of the whole complex process we call 'colonization.' The research that supports it is ingenious, the argument compelling, the prose lucid and graceful.
— John Demos, author of The Heathen School