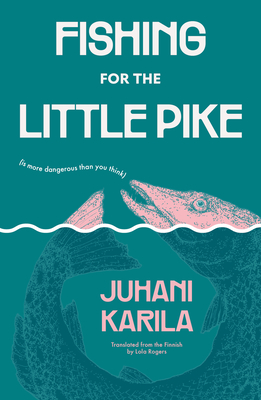 Fishing for the Little Pike
Publication Date:
September 12th, 2023
Publisher:
Restless Books
Charter Books
On hand, as of Dec 6 12:52am
(Sci-Fi / Fantasy)
On Our Shelves Now
Description
In the utterly original, genre-defying, English-language debut of Finnish author Juhani Karila, a young woman's annual pilgrimage to her home in Lapland to catch an elusive pike in three days is complicated by a host of mythical creatures, a murder detective hot on her trail, and a deadly curse hanging over her head.
When Elina makes her annual summer pilgrimage to her remote family farm in Lapland, she has three days to catch the pike in a local pond or she and the love of her life will both die. This year her task is made more difficult by the intervention of a host of deadly supernatural creatures and a murder detective on her tail.
Can Elina catch the pike and put to rest the curse that has been hanging over her head since a youthful love affair turned sour? Can Sergeant Janatuinen make it back to civilization in one piece? And just why is Lapland in summer so weird?
Fishing for the Little Pike is an audacious, genre-defying blend of fantasy, folk tale, and nature writing.
About the Author
Juhani Karila is an award-winning author and journalist with a master's in communication theory. In 2010, Karila won the J.H. Erkko Award, and his first collection of short stories Gorilla (2013), was nominated for the Helsingin Sanomat Prize. His second collection, The Death of the Apple Crocodile (2016), is a series of connected stories about the collision of large and small worlds. Karila's debut novel Fishing for the Little Pike (2019) won the Kalevi Jäntti Prize and Tähtifantasia Prize, and was nominated for the Jarkko Laine Prize. He currently lives in Helsinki, Finland.Lola Rogers is a full-time literary translator living in Seattle. She has translated novels, short stories, children's books, comics, and poetry. Lola's translation of Sofi Oksanen's novel When the Doves Disappeared was a finalist for the 2016 Oxford-Weidenfeld Translation Prize, and her translation of Johanna Sinisalo's The Core of the Sun received the 2017 Prometheus Award. Lola is a founding member of the Finnish-English Literary Translation Cooperative.