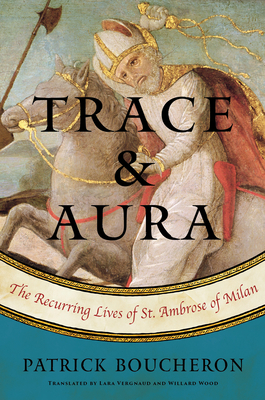 Trace and Aura: The Recurring Lives of St. Ambrose of Milan
Publication Date:
January 25th, 2022
Charter Books
On hand, as of Nov 30 3:37am
(History - General)
On Our Shelves Now
Description
From one of the foremost medievalists of our time, a groundbreaking work on history and memory that goes well beyond the life of this influential saint.
 
Elected bishop of Milan by popular acclaim in 374, Ambrose went on to become one of the four original Doctors of the Church. There is much more to this book, however, than the captivating story of the bishop who baptized Saint Augustine in the fourth century. Trace and Aura investigates how a crucial figure from the past can return in different guises over and over again, in a city that he inspired and shaped through his beliefs and political convictions. His recurring lives actually span more than ten centuries, from the fourth to the sixteenth.
In the process of following Ambrose's various reincarnations, Patrick Boucheron draws compelling connections between religion, government, tyranny, the Italian commune, Milan's yearning for autonomy, and many other aspects of this fascinating relationship between a city and its spiritual mentor who strangely seems to resist being manipulated by the needs and ambitions of those in power.
Praise for Trace and Aura: The Recurring Lives of St. Ambrose of Milan
"France's leading medievalist sets out on a quest, not to discover the 'real' Ambrose, but to track the saint's successive apparitions across a thousand years and more of urban history. A masterful account of the role played by collective memory in summoning up the ghosts of the past to fight the battles of the present." —Gary Ianziti, author of Writing History in Renaissance Italy
"Patrick Boucheron weaves an enchantment almost comparable to the songs of Ambrose himself, offering new and unexpected perspectives upon the fourth-century bishop's serial afterlives. Fresh meaning is suggested for each transition, as the saint acquires his whip and loses his beard, as the stern exclusionist policing a fragile Milanese commune melts into the determined guarantor of an equally fragile signorial coalition." —Neil B. McLynn, author of Ambrose of Milan: Church and Court in a Christian Capital
"Excellent…[Trace and Aura offers] an uncompromising erudition coupled with the pleasure of reading and discovery." —Le Monde des livres
 
"Patrick Boucheron has succeeded in writing a history book on history itself…Milan becomes a machine against forgetting, and Sant'Ambrogio a machine to stop time. From the fourth to the sixteenth century, the aura of Milan's holy bishop oscillated like a light in the fog." —Livres Hebdo
"[Trace and Aura] tracks the harmonics of Ambrose, those spectral notes the Milanese saint emits over the fundamentals of each era, for more than ten centuries. Because before being a historical figure, the saint is a story." —AOC
Praise for Machiavelli:
"[Boucheron] makes a case for Machiavelli as a misunderstood and villainized figure with political insights that can be applied to modern times." —New York Times Book Review
 
"To reframe our understanding of Machiavelli, Mr. Boucheron asks, Who was he writing for?…If The Prince was meant to help ordinary people understand what their leaders were up to, then it is not a handbook for the power-crazed but a means of stopping them." —Wall Street Journal
 
"This wise, witty, razor-sharp anatomy of Machiavelli demonstrates why the most notorious thinker of the Renaissance is the perfect companion for our own time." —Stephen Greenblatt, author of The Swerve: How the World Became Modern
"An elegant introduction to this disturbing, incisive, many-sided thinker—and a reminder of why we must read him right now." —Sarah Bakewell, author of How to Live: A Life of Montaigne