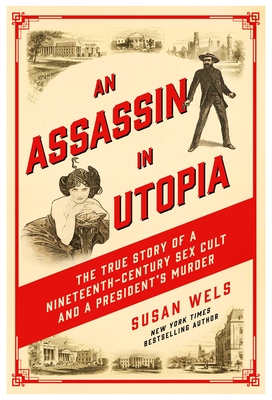 An Assassin in Utopia: The True Story of a Nineteenth-Century Sex Cult and a President's Murder
Publication Date:
February 7th, 2023
Charter Books
On hand, as of Dec 2 2:07am
(History - U.S.)
On Our Shelves Now
Description
This true crime odyssey explores a forgotten, astonishing chapter of American history, leading the reader from a free-love community in upstate New York to the shocking assassination of President James Garfield.
It was heaven on earth—and, some whispered, the devil's garden.
Thousands came by trains and carriages to see this new Eden, carved from hundreds of acres of wild woodland. They marveled at orchards bursting with fruit, thick herds of Ayrshire cattle and Cotswold sheep, and whizzing mills. They gaped at the people who lived in this place—especially the women, with their queer cropped hair and shamelessly short skirts. The men and women of this strange outpost worked and slept together—without sin, they claimed.
From 1848 to 1881, a small utopian colony in upstate New York—the Oneida Community—was known for its shocking sexual practices, from open marriage and free love to the sexual training of young boys by older women. And in 1881, a one-time member of the Oneida Community—Charles Julius Guiteau—assassinated President James Garfield in a brutal crime that shook America to its core.
An Assassin in Utopia is the first book that weaves together these explosive stories in a tale of utopian experiments, political machinations, and murder. This deeply researched narrative—by bestselling author Susan Wels—tells the true, interlocking stories of the Oneida Community and its radical founder, John Humphrey Noyes; his idol, the eccentric newspaper publisher Horace Greeley (founder of the New Yorker and the New York Tribune); and the gloomy, indecisive President James Garfield—who was assassinated after his first six months in office.
Juxtaposed to their stories is the odd tale of Garfield's assassin, the demented Charles Julius Guiteau, who was connected to all of them in extraordinary, surprising ways.
Against a vivid backdrop of ambition, hucksterism, epidemics, and spectacle, the book's interwoven stories fuse together in the climactic murder of President Garfield in 1881—at the same time as the Oneida Community collapsed.
Colorful and compelling, An Assassin in Utopia is a page-turning odyssey through America's nineteenth-century cultural and political landscape. 
Praise for An Assassin in Utopia: The True Story of a Nineteenth-Century Sex Cult and a President's Murder
Advance praise for An Assassin in Utopia:
"Wels centers this intriguing and sprawling survey of late 19th-century America on the Oneida Community, an agrarian society founded by John Humphrey Noyes and based on his religious beliefs and free love. American history buffs will find much of interest. Fans of Candice Millard's work will want to have a look."
— Publishers Weekly
"Wels's kaleidoscopic romp is an undeniable thrill. This is a book to be sidled up to like a buffet...An expert and well-paced dissection of post-Civil War politics."
— The New York Times Book Review
 "An Assassin in Utopia offers an engaging glimpse of the times. There is much to enjoy. The descriptions are vivid, the pace is brisk, and the connections among its characters are often surprising. Informative and entertaining."
— Gerard Helferich
"Packed with colorful characters and well-chosen details, this book is an engrossing account of Victorian-era American eccentricity. I was thoroughly immersed. The ending is a page turner as Wels describes Garfield's last days alive, oblivious to Guiteau skulking in the shadows."
— The Washington Post
"Readers will find Guiteau's devolution into an assassin and the history of Oneida both fascinating and shocking, with uncanny parallels to today's news stories."
— Library Journal 
"Juggling incels and libertines, the mighty and the mightily deranged, Susan Wels deftly brings us this close to an amazing cast of real-life nineteenth century characters—admirable and horrific, brilliant and doomed, messianic and utterly mad—making them (and their vivid emotions) newly relatable to our era. You'll be casting An Assassin in Utopia in your head, even as it demonstrates that Free Love is anything but, and that one man can make a difference, often in the worst way possible. This is like David McCullough on acid."
— Chris Connelly, ABC News correspondent and ESPN reporter
"Susan Wels has assembled a large and rowdy cast of characters in this immensely enjoyable and engrossing book. Self-proclaimed messiahs, patronage-dealing politicians, ink-stained journalists, table-rapping mediums, tent-raising charlatans: All are trying to make their mark in Gilded Age America. And, remarkably, all their paths cross in An Assassin in Utopia, with surprising and tragic results."
— John Kelly, Columnist, The Washington Post
"Susan Wels is a gifted and masterful storyteller. Her book is a fascinating, well-told tale of a presidential assassination and sexually unbridled would-be utopia. She provides vivid, nuanced details of the time and some of its most interesting characters —including publisher Horace Greely, showman P. T. Barnum, feminist and foreign correspondent Margaret Fuller, the spirit-seeking Fox sisters, a cross-dressing Union spy, and major political figures of the period. An Assassin in Utopia is a deeply researched, riveting book told with impressive command and narrative power.  I strongly recommend it."
— Michael Krasny, Professor Emeritus of American Literature and retired host of public radio's KQED Forum