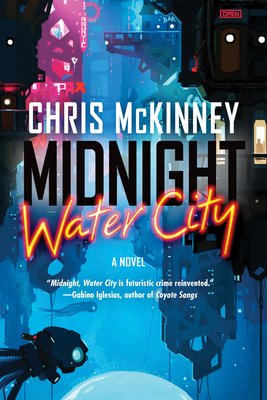 Midnight, Water City (The Water City Trilogy #1)
Publication Date:
June 14th, 2022
Charter Books
On hand, as of Nov 30 3:37am
(Sci-Fi / Fantasy)
On Our Shelves Now
Description
Hawai'i author Chris McKinney's first entry in a brilliant new sci-fi noir trilogy explores the sordid past of a murdered scientist, deified in death, through the eyes of a man who once committed unspeakable crimes for her.

Year 2142: Earth is forty years past a near-collision with the asteroid Sessho-seki. Akira Kimura, the scientist responsible for eliminating the threat, has reached heights of celebrity approaching deification. But now, Akira feels her safety is under threat, so after years without contact, she reaches out to her former head of security, who has since become a police detective.
When he arrives at her deep-sea home and finds Akira methodically dismembered, this detective will risk everything—his career, his family, even his own life—and delve back into his shared past with Akira to find her killer. With a rich, cinematic voice and burning cynicism, Midnight, Water City is both a thrilling neo-noir procedural and a stunning exploration of research, class, climate change, the cult of personality, and the dark sacrifices we are willing to make in the name of progress.
Praise for Midnight, Water City (The Water City Trilogy #1)
Praise for Midnight, Water City
A HONOLULU Magazine Essential Hawai'i Book
A CrimeReads Best Speculative Mystery of 2021
A Publishers Weekly Best Mystery of 2021

"This distinctive novel brims with delightful innovations, razor-sharp social commentary and richly wrought characters, all set against a teeming underwater city."
—Newsweek

"Midnight, Water City launche[s] a trilogy of averted apocalypse proportions, where the truth is hidden, and as an unnamed detective tries to unravel a murder mystery, he only finds more questions."
—Paste
"This gritty noir set in a sci-fi landscape is a real page-turner."
—Buzzfeed
"Many writers use crime fiction to reveal hidden elements of society or expose the abuses of those in power . . . And that sense of powerful people concealing crucial secrets from the general public is very much on display in Chris McKinney's Midnight, Water City—a novel which makes the most of its slow-burning narrative of detection."
—Tor.com
"McKinney boldly reinvents himself . . . [H]is indictment of income and political inequality is still what makes [Midnight, Water City] run hot and true."
—HONOLULU Magazine
"Delightfully creative and with plenty of realistic touches of the futuristic banal, Chris McKinney's underwater noir is a startlingly original read."
—CrimeReads
"A must-read . . . Midnight, Water City is one of those rare nov­els that will satisfy fans of crime fiction as well as diehard lovers of classic SF. McKinney is a talented storyteller who created an all-too-real world under the ocean that feels perfectly plausible and yet entirely new."
—Locus Magazine
"In Midnight, Water City writer Chris McKinney takes the plunge into sci-fi noir with elan and audacity. The novel of a future Hawai'i lands like a cannonball in the summer reading pool . . . Entertaining, visual, suspenseful, with a monster at the center just waiting to flex its muscles."
—The Hawai'i Review of Books
"Midnight, Water City is futuristic crime reinvented. A weird, smart blast of sci-fi noir, this narrative places readers in constantly shifting terrain. Politically engaged, environmentally conscious, and packed with action, this novel shows an all-too-plausible future. Chris McKinney has arrived, and his mixture of classic genre themes and innovation make his distinctive voice one that demands attention."
—Gabino Iglesias, author of Coyote Songs

"Midnight, Water City is one of the best books . . . so far this year."
—BookReporter.com
"In this pitch-black noir, McKinney raises the tension step-by-step as his protagonist encounters foes both physical and mental, all while building a detailed universe."
—BookBub
"This year's most remarkable crime fiction may be [Midnight, Water City]. Take a hard-boiled detective novel, with all its bitterness and grim assessment of the human race — and knock it 80 years into our future, when a strike from a major asteroid is averted just in time to save what remains of Earth . . . McKinney tosses some stunning twists into this, though, and crime readers may find this book's play of betrayal and discovery to be a haunting futuristic version of the best crime fiction of the past."
—Kingdom Books
"This complex blend of science fiction and homicide investigation is the first in a trilogy exploring themes of climate change, extreme wealth, and the cult of personality."
—Stop, You're Killing Me!
"Fans of the Amazon Prime show The Expanse and the movie Ghost in the Shell (2017) will enjoy Midnight, Water City."
—Over My Dead Body!

"McKinney not only sets the plot in motion with ease and expertise, but handles the exposition effectively and economically. By the seventh page one already has a good grasp of his 22nd century: Kimura's unique status; the preference for living in submarine high rises; the existence of suits that control one's environment completely; the ability to prolong the human lifespan artificially; and much more . . . A seamless blend of crime, science fiction and social commentary."
—Crime Fiction Lover

"A noir-type of police procedural in the setting of a cinematic backdrop of future Hawaii, 2142, rivaling that of Ridley Scott's Blade Runner . . . An immersive world building flows effortlessly through the pages . . . Blended into this hardboiled detective fiction are a multiplicity of relevant themes: climate change, class distinctions, and humanity's price to be paid for technological progress. Ultimately a disturbing cautionary tale evolves."
—Mystery and Suspense Magazine
"McKinney writes the story as if it were a Greek tragedy, right down to the family struggles of epic proportions, and it's a reflection on intergenerational trauma, which will resonate with many readers . . . A murder mystery that keeps you on the edge of your seat."
—The Globe and Mail
"[A] noirish locked-room mystery . . . Our detective faces legal, physical, and existential threats that we can recognize. Human bodies might respond to technological change, but human desires and moral standards will take longer to shift."
—Gumshoe Review
"Highly Recommended."
—Amazing Stories

"There are no robots here but somehow Chris Mckinney's clean writing recalls Asimov and Heinlein . . . The author takes worldbuilding seriously and the details hang together: The ways long-lived people set up their lives; How the super-rich, even the nice ones, might behave; How remote places might survive regional catastrophes . . . [V]ery nicely done."
—SFRevu

"Chris McKinney's cyber-noir novel, Midnight, Water City, is a riveting, cautionary tale about our earth-exploited future. His mind-blowing concepts and conceits are so spooky and brilliant one suspects he's the spawn of Asimov and Tesla. A must-read for sci-fi lovers!"
—Kiana Davenport, author of Shark Dialogues

"Midnight, Water City is a hardboiled noir drenched in a water-soaked future of soaring seascrapers and floating suburbs. The prose is sharp, the tech strange, and the twists shocking. McKinney expertly blends science fiction, noir, and cli-fi into a wild and original ride."
—Lincoln Michel, author of The Body Scout

"McKinney pushes everything you think you know about noir crime fiction several decades into the future and drowns it in the Pacific Ocean. The end result is every writer's dream—a truly audacious idea fully and flawlessly developed."
—Lono Waiwaiole, author of White Swan
"Action-packed . . . A dramatic final showdown mak[es] for a satisfying high-point ending."
—The Complete Review
"Set in the 22nd century, this exceptional mystery-SF hybrid from McKinney, a trilogy kickoff, boasts impressive worldbuilding and a classic morally compromised lead thrust into a high-stakes homicide investigation . . . Comparisons to Philip K. Dick's Do Androids Dream of Electric Sheep?, the inspiration for the movie Blade Runner, are warranted."
—Publishers Weekly, Starred Review
"Although it has plenty of science-fiction elements (personal artificial intelligences, massive undersea living complexes), this is at its heart a traditional murder mystery, much in the same way Ben H. Winters' The Last Policeman (2012) was a cop story set in a science-fictional environment. McKinney gives us a grisly murder; a cop with a history of violence; a surly, dim-witted police captain; an assortment of unsavory supporting characters; and some really effective twists. Readers who like mysteries with a futuristic feel will love this one."
—Booklist

"A philosophical, futuristic narrative . . . Descriptions of looming cloudscrapers and dense underwater cities made of recycled materials bring this intriguing setting to life. Dangerous, inventive technologies are also introduced, while entertaining fight scenes punctuate the story."
—Foreword Reviews
"[A] slice of post-apocalyptic noir even darker and more stylized than Blade Runner."
—Kirkus Reviews

Praise for Chris McKinney
"An impressive feat of world-building, blending speculative but coherent takes on environmental issues and the future of tech, politics and the economy . . . There's no denying McKinney has a fantastic imagination that's running in high gear here, making this series well worth checking out."
—The Toronto Star
"Rough-and-tumble, rife with fully drawn badass characters and plenty of action, McKinney's novel is powerful and strong."
—Time Out Chicago
 
"A gritty, troubling book . . . about 'the sins of the fathers.'"
—The Honolulu Advertiser
 
"Unforgettable."
—San Antonio Current
"The other Hawai'i, the one tourists never get to see."
—Ian MacMillan