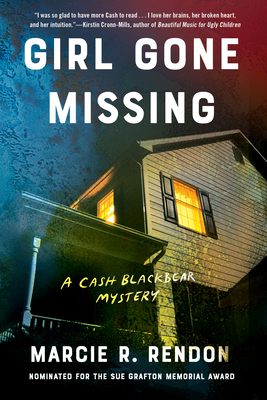 Girl Gone Missing (A Cash Blackbear Mystery #2)
Publication Date:
April 5th, 2022
Charter Books
On hand, as of Dec 6 12:52am
(Mystery & Suspense)
On Our Shelves Now
Description
Nineteen-year-old Cash Blackbear helps law enforcement solve the mysterious disappearance of a local girl from Minnesota's Red River Valley.

1970s, Fargo-Moorhead: it's the tail end of the age of peace and love, but Cash Blackbear isn't feeling it. Bored by her freshman classes at Moorhead State College, Cash just wants to play pool, learn judo, chain-smoke, and be left alone. But when one of Cash's classmates vanishes without a trace, Cash, whose dreams have revealed dangerous realities in the past, can't stop envisioning terrified girls begging for help. Things become even more intense when an unexpected houseguest starts crashing in her living room: a brother she didn't even know was alive, from whom she was separated when they were taken from the Ojibwe White Earth Reservation as children and forced into foster care.
When Sheriff Wheaton, her guardian and friend, asks for Cash's help with the case of the missing girl, she must override her apprehension about leaving her hometown—and her rule to never get in somebody else's car—in order to discover the truth about the girl's whereabouts. Can she get to her before it's too late?
Praise for Girl Gone Missing (A Cash Blackbear Mystery #2)
Praise for Girl Gone Missing
"Rendon is a natural storyteller and a consummate writer . . . There isn't a protagonist in recent fiction with the bearing of Rendon's creation, and we're the better for knowing her."
―Grand Rapids Herald-Review
"The vivid writing and keen eye keep the pages turning and readers hoping for another book in this series."
―Buzzfeed
 
"Darn that Marcie Rendon but she did it again. She wrote another book featuring Renee 'Cash' Blackbear which invariably led to nonstop, compulsive reading and thoughts about the 19-year-old protagonist . . . This is a good book. If you read it, block out uninterrupted time. It's hard to put down."
―The Circle News: Native American News and Arts
 
"I was so glad to have more Cash to read . . . I love her brains, her broken heart, and her intuition."
―Kirstin Cronn-Mills, author of Beautiful Music for Ugly Children
"Against the landscape of a 1970s college town, the disappearance of a classmate draws Cash into a web of dreams, deceit and danger. Heart-stopping, heartrending and heartening, often all at the same time."
―Linda LeGarde Grover, author of The Road Back to Sweetgrass
 
"Cash Blackbear is a complex, courageous character, full of her own integrity."
―Linda Rodriguez, author of the Skeet Bannion Mysteries
 
"Murder on the Red River and Girl Gone Missing are excellent novels, so compulsively readable that they are difficult to put down . . . presenting compelling and engaging narratives that also touch on issues that face Indigenous peoples and communities."
―Transmotion
"[A] refreshing sequel . . . Rendon, herself a member of the White Earth Anishinabe Nation, highlights the plight of Native Americans who were forcibly adopted by whites and Cash's discomfort in a land that is and is not hers. Readers will look forward to Cash's next outing."
―Publishers Weekly
Praise for the Cash Blackbear Mysteries
"Rendon infuses her novels with compassion for Indigenous women who are missing or killed and never found. Cash's toughness, commitment to justice and vulnerability honor those women."
—Pioneer Press
"Rendon's mystery novels simultaneously inform and entertain readers, presenting current Native American issues through her heroine's efforts to solve crimes perpetrated against society's more vulnerable members in the early 1970s . . . Rendon's stories create a world for Cash that readers will want to inhabit."
—Chicago Review of Books