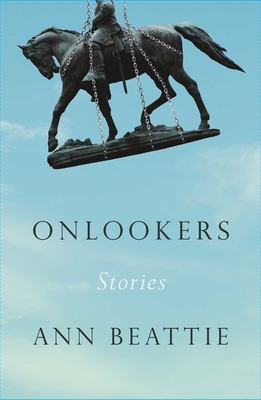 Onlookers: Stories
Publication Date:
July 18th, 2023
Charter Books
On hand, as of Nov 30 3:37am
(Fiction - Short Stories)
On Our Shelves Now
Description
* "Supple, superb." —The Boston Globe * "A deft mash of lonesomeness and wit." —Chicago Tribune * "Her best in more than two decades." —The New York Times *
Award-winning short story writer Ann Beattie returns with a "sophisticated, idiosyncratic, and witty" (Star Tribune, Minneapolis) collection of linked stories set in Charlottesville, Virginia, in a moment of unrest.
Onlookers is collection of extraordinary stories about people living in the same Southern town whose lives intersect in surprising ways. Peaceful Charlottesville, Virginia, drew national attention when white nationalists held a rally there in 2017, a horrific event whose repercussions are still felt today. Confederate monuments such as General Robert E. Lee atop his horse were then still standing. The statues are a constant presence and a metaphoric refrain throughout this collection, though they represent different things to different characters. Some landmarks may have faded from consciousness but provoke fresh outrage when viewed through newly opened eyes.
In "Nearby," an elderly man and his younger wife watch from their penthouse as protestors gather to oppose the once "heroic" explorers Lewis and Clark depicted towering over their native guide, Sacagawea. A lawyer in "In the Great Southern Tradition" deals with a crisis on Richmond's Monument Avenue, while his sister and nephew plant tulip bulbs at her stately home.
These are stories of unexpected relationships that affirm the value of friendship, even when it requires difficult compromises or unexpected risks. Ann Beattie explores questions about the nature of community, and "proves her herself up to the task of pinpointing America's contradictions" (Publishers Weekly).
Praise for Onlookers: Stories
"Her best in more than two decades… Beattie is a dry yet earthy writer, in touch with moods and manners, with an eye for passing comedy… she takes notes on her species, as if she were a naturalist observing robins. She pries at the mystery of life." —Dwight Garner, The New York Times
"Stories of exceptional subtlety and wit… A virtuoso of decimating dialogue and provocative predicaments, Beattie is at her sharpest and most exhilarating in this nimble and surprising exploration of place, identity, and responsibility." —Booklist (starred)
"A vivid circling as Beattie introduces and re-introduces characters moving in a kaleidoscope of narrative." —David Ulin, The Los Angeles Times
"Full of ambivalent love, modern Southern charm, and contemporary concerns, the stories in this collection are timeless as well as sharply contemporary." —Library Journal
"'Powerful' might be too trite a descriptor for Beattie's new story collection, in which the pieces are fastened together by a common presence: the Confederate monuments that stamp her setting of Charlottesville, Virginia." —Elle
"Smart and wry…measured prose and incisive humor make these stories shine. Once again, Beattie proves herself up to the task of pinpointing America's contradictions." —Publishers Weekly
"Sharply focused work from a master of the short fiction form." —Kirkus
"A deft mash of lonesomeness and wit." —Chicago Tribune
"Beattie nails the details… sophisticated, idiosyncratic and witty."  —Minneapolis Star Tribune
"Supple, superb… Onlookers is a candid look outward and inward, reflecting masterfully on selfhood and community." —Boston Globe
"Beattie is not holding anything back. The writing is intentional and patient; comfortable lingering in those ordinary moments that in other hands might present as flat and monochrome. Look closer: there is texture there, blended colors, a complex catching of light." —Halimah Marcus, Electric Literature