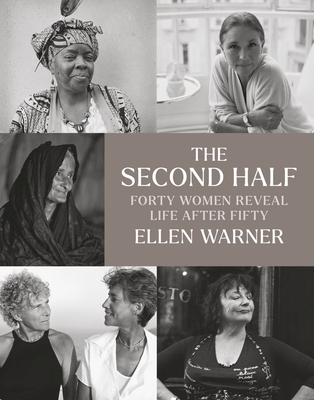 The Second Half: Forty Women Reveal Life After Fifty
Publication Date:
January 20th, 2022
Publisher:
Brandeis University Press
In Stock at Warehouse - Usually Arrives in 3-7 Days
Description
A frank, honest, and insightful look into the lives of women over fifty. 
 
The Second Half explores, in photographic portraits and interviews, how the second half of life is experienced by women from many different cultures. From a French actress to a British novelist, from an Algerian nomad to a Saudi Arabian doctor, and an American politician, Ellen Warner traveled all over the world to interview women about their lives.  She asked them what they learned in the first half that was helpful in the second, and what advice they would give to younger women. Their revealing and inspiring stories are enlightening for all readers, and are illustrated by Warner's stunning portraits which tell their own story.
Praise for The Second Half: Forty Women Reveal Life After Fifty
"A fascinating, fly-in-amber distillation of forty women over fifty, the book pushes these women to the foreground, shaking up expectations along the way. The results (are) revelatory."
— Foreword Reviews, Starred Review
"Reading Ellen Warner's The Second Half: Forty Women Reveal Life After Fifty is like having one of those intimate conversations with each of 40 women from around the world as they share their formative experiences and advice for younger generations. Their insights are particularly valuable in a country where intergenerational learning is often lost…"
— The Washington Post
"It is with these words (from the women in the book) that any woman who reaches the age of 50 and beyond can exhilarate in the fact that a better life is just beginning."
— The New York Journal of Books
"As these women and others divulge their most difficult and joyous moments, the result is a book bristling with energy and wisdom."
— BookPage, Starred Review
"The black-and-white portraits are intimate and revealing, and the interviews..are never less than fascinating… Its magic rests in the portraits, which are so wondrous that one is drawn irresistibly into the words."
— Air Mail
"This is a collection of 40 beautiful portraits of 40 amazing women over 50. Gift it to all your friends, for no special occasion whatsoever. "
— Ms. Magazine
"22 of 2022's Top New Books (So Far)"
— AARP
"What makes this book really special is that the women share what they've learned from their experiences, and how those lessons will shape the rest of their lives… (it) is a compelling testament to human perseverance in the face of hardship, but also to life's enduring joys. Warner captures her subjects' candid stories sensitively and with verve."
— Hyperallergic
"We need to celebrate women for not wrinkles but laugh lines. We need to see ourselves changing and growing. If that means looking older – celebrate it. Experience is as beautiful as youth. These (words and) pictures are meant to teach us that every stage of life has its own enchantment." 
— Erica Mann Jong, from the Foreword
"Ellen Warner's powerful and moving portraits and interviews show us what we need to know: how extremely diverse women envision the second half of women's' lives, and the wide-ranging perspectives they offer to share with us, the fortunate readers."
— Professor Elaine Pagels, historian
"The faces of the women in this book, deeply etched by experience and by sorrow and yet alight with life and hope are an enduring tribute not only to Ellen's genius as a photographer skill but also to the personal qualities that give her subjects the freedom to reveal who they really are."
— Pat Barker, novelist
"Warner's book beautifully reflects the challenges and opportunities of growing older in an ageist culture. The depictions of older women's complexity, diversity and resiliency offer a wonderful resource for all of us – including younger people – in our age-segregated society."
— Joan Ditzion, MSW, and Judy Norsigian, co-founders of Our Bodies Ourselves
"The diverse and inspiring stories in Ellen Warner's The Second Half are as powerfully written as they are stunningly photographed, and superbly curated. Each face, each life, each page fills you with hope, and takes your breath away."
— Nandana Sen, writer, actor, activist
"Ellen Warner's photographs are deeply narrative, and in this book we are presented with a remarkable enhancement to those images: the real narratives."
— Tim Gunn, author, actor, Project Runway mentor.
"Books with good advice on healthy aging."
— Beacon