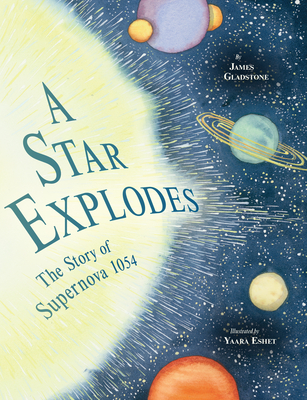 A Star Explodes: The Story of Supernova 1054
Publication Date:
March 14th, 2023
Charter Books
On hand, as of Dec 2 2:07am
(Children - Elementary)
On Our Shelves Now
Description
An exploding star in the year 1054 creates fascinating remnants still seen today
The supernova of 1054 was one of the brightest supernova events recorded in history. And its remnant, the Crab Nebula, is still studied today.
Beginning at the moment of a supernova explosion thousands of years ago, this story travels forward in time to 1054, the year people around the world saw the unparalleled light of an exploding star appear in Earth's sky. The story then travels deep into space to see the remnant of this supernova--the Crab Nebula--followed by a continuing trip forward in time.
Taking a unique approach integrating astronomy, cultural history, and advances in technology, the book encourages readers to think about the world around them and their place in the universe. Told in minimal, poetic text with stunning watercolor and ink illustrations, the book closes with an invitation for readers to imagine a time when they, too, might see the rare event of a supernova shining in the sky.