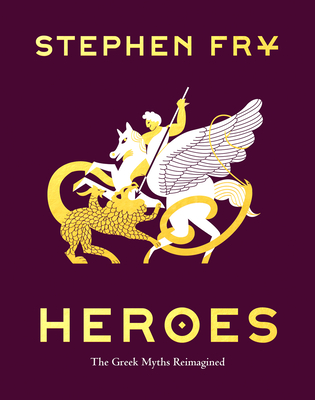 Heroes: The Greek Myths Reimagined
Publication Date:
June 2nd, 2020
Publisher:
Chronicle Books
Charter Books
On hand, as of Nov 30 3:37am
(Mythology & Folklore)
On Our Shelves Now
Description
In this sequel to the bestselling Mythos, legendary author and actor Stephen Fry moves from the exploits of the Olympian gods to the deeds of mortal heroes.
Perseus. Jason. Atalanta. Theseus. Heracles. Rediscover the thrills, grandeur, and unabashed fun of the Greek myths. Whether recounting a tender love affair or a heroic triumph, Fry's distinctive voice and writing style lend humor and emotion to his fresh yet reverential interpretations that deftly find resonance with our own modern minds and hearts.
Illustrated throughout with classical art inspired by the myths, this fresh take on ancient tales invites you to explore a captivating world with a brilliant storyteller as your guide.
BELOVED AUTHOR: Stephen Fry is an icon whose signature wit and mellifluous style makes this retelling utterly unique. Fans will love hearing his interpretations as he draws out the humor and pathos in both tender love affairs and heroic battles and discovering each myth's relevance for our own time whether they are familiar with the original Greek myths or not.
STUNNING SERIES SEQUEL: The celebrated and internationally bestselling trilogy that begins with Mythos and concludes with Troy continues with Heroes. Fans of the first book will be thrilled to continue the adventure in this compelling sequel.
 
STRIKING GIFT: With a vibrant contemporary design, full-color artwork throughout, and a luxe, foil-stamped jacket, this gorgeous collector's edition makes a superb present.
Perfect for:
Mythology and history buffs, lovers of ancient Greece, art aficionados, and devoted fans of Stephen Fry
Adding to the home library alongside Neil Gaiman's Norse Mythology, Madeline Miller's Circe or Song of Achilles, and Edith Hamilton's Mythology: Timeless Tales of Gods and Heroes
Readers who enjoy timeless stories, from the Grimm Brothers' fairy tales to Egyptian mythology to legends of Greek gods
Praise for Heroes: The Greek Myths Reimagined
"Actor and author Stephen Fry retells the stories of Greek Heroes in an imaginative and witty manner...Each of the tales of Perseus, Heracles, Bellerophon, Jason, Atalanta, Oedipus and Theseus is reimagined in modern vernacular and there is never a boring moment. Illustrated with classic artwork, this is a handsome and well-researched book." - Denton Record-Chronicle
"Both Mythos and Heroes are an accessible introduction to the Greek pantheon and the mythology that grew from there. Some of it is a bit gory, some of it lusty, all of it an insight into base humanity. Fry's humor weaves its way throughout the tales, and you learn to hold loosely your ideas of fact and fiction in the stories that you are reading. A good lesson for our times" - Geek Mom
"British actor, comedian, documentarian, and author Stephen Fry dedicates this second volume of his series about the great world myths to "all the heroes we never heard of. Perhaps you are one." His versions of Greek heroic literature owe much to his deep reading of the originals, but these aren't your decorous Edith Hamilton Greek myths. They're cheeky and witty, and, above all, they bring the larger-than-life figures back to human scale – as if Fry had channeled Monty Python. Reading Heroes might not turn you into one, but it'll likely make you ponder how to bring a bit of heroism into everyday life."
Holiday Gift Guide selection - Geek Dad