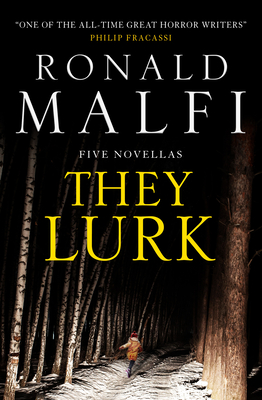 They Lurk
Publication Date:
July 18th, 2023
Charter Books
On hand, as of Dec 6 12:52am
(Horror)
On Our Shelves Now
Description
From the bestselling author of Come with Me, five collected novellas from the master of terror, featuring possession, parasites and something monstrous lurking outside…
COME CLOSER…
Five terrifying collected horror novellas newly reissued from the "modern-day Algernon Blackwood". 
Skullbelly
After three teenagers disappear in a forest, a private detective is hired and uncovers a terrible local secret.
The Separation
Marcus arrives in Germany to find his friend up-and-coming prizefighter Charlie in a deep depression. But soon Charlie's behavior grows increasingly bizarre. Is he suffering from a nervous breakdown, or are otherworldly forces at work? 
The Stranger
Set a rural Florida parking lot, David returns to his car to find a stranger sat behind the wheel. The doors are locked and there's a gun on the dashboard. And that was when then the insanity started… 
After the Fade
A girl walked into a small Annapolis tavern, collapsed and died. Something had latched itself to the base of her skull. And it didn't arrive alone.
Now, the patrons of The Fulcrum are trapped, held prisoner within the tavern's walls by monstrous things, trying to find their way in.
And one more novella to be revealed!
Praise for They Lurk
Praise for Ghostwritten:
"It's no coincidence that there are four chambers to the human heart and Ronald Malfi's 'Ghostwritten', both bound by muscle and full of blood, but once this quartet of nightmarish novellas gets pumping, your own ticker is sure to stop."
Clay McLeod Chapman, author of 'Whisper Down the Lane'
"Malfi makes reading about the perils of reading a terrifying delight." 
Publishers Weekly, Starred Review
"A terrific horror novelist and his edge is just as sharp at novella length fiction also... beautifully crafted and a pleasure to read"
Ginger Nuts of Horror
"Malfi makes horror feel viscerally real by showing it to us through the eyes of his vividly described characters—if they are frightened, apprehensive, or just confused, so are we."
Booklist
Praise for 'Black Mouth':
"Stunningly good, with echoes of King, Bradbury, Straub, and McCammon, but somehow purely Malfi. Full of malevolence and dread, and peopled by truly compelling characters, the book locks in Malfi's place as one of the best writers in the genre."
Christopher Golden, 'New York Times' bestselling author of 'Road of BONES' and 'Ararat'
"'Black Mouth' is good magic about dark magic: a powerful meeting between adulthood and childhood, the people we pretend to be and the people we have to be. Smart, character-driven horror."
Andrew Pyper, author of 'The Residence' and 'The Demonologist'
"Malfi has established himself as one of the all-time great horror writers, and 'Black Mouth' shows him working at the peak of his dark powers. Equally terrifying and heartbreaking, 'Black Mouth' is a book filled with terror, ghosts, and murder, but also hauntings of the heart, and the soul. Riveting, bloody, and cosmic, this novel will tear you apart in all the best ways." 
Philip Fracassi, author of 'Beneath a Pale Sky'
"Malfi, like Stephen King and Stephen Graham Jones, tells horror stories that are anchored in the real world. His characters, like theirs, are ordinary people caught up in extraordinary events. He earns his screams and shudders honestly, through good writing and careful plotting: there are no B-movie jump scares here, just an increasing sense of dread that erupts into blood-chilling horror. Don't miss this one."
'Booklist'
"The well-done cosmic horror and mix of mundane and magical scares make this a standout." 
'Publishers Weekly'
"From one of horror's best storytellers... If you're looking for a good, unsettling, smart and well-written horror novel, 'Black Mouth' should certainly be on your short list. This is doubly true if you enjoyed Stephen King's 'IT'."
'Eggplante'
"Expertly crafted and thoroughly engrossing, Black Mouth is a sure-fire contender for the book of 2022."
Bloody Flicks
Praise for Come with Me:
Malfi is a modern-day Algernon Blackwood... I'm gonna be talking about this book for years
JOSH MALERMAN, author of Bird Box
This is what it is to be transported: you might think you're on solid ground, but Come with Me is a story that will carry you, inescapably, into the uncanny, the horrific.
Andrew Pyper, author of The Residence
Part mystery, part ghost story, Come with Me chimes with rare beauty and page-turning brilliance. I surrendered to it completely.
Rio Youers, author of Lola on Fire
A must-read for fans of Stephen King. Come with Me is so damn good, truly chilling and suspenseful, yet also hauntingly nuanced
Christopher Golden, author of Ararat
Come with Me is Malfi's masterwork – a haunting, heart-breaking novel about grief and secrets. Utterly engrossing and terrifying. Highly recommended!
Brian Keene, author of The Rising
Shines as both a nightmare journey of shadows and secrets, and a poignant testimony to love and loss. I read it in a single day because I had no other choice: it's that damn good.
Richard Chizmar, author of Gwendy's Button Box
Malfi impresses in this taut, supernaturally tinged mystery... and sticks the landing with a powerful denouement. There's plenty here to enjoy.
Publishers Weekly
Malfi artfully fits the reader's head in a noose and s-l-o-w-l-y begins to take out the slack. Take a deep breath. You'll need the oxygen
The Day