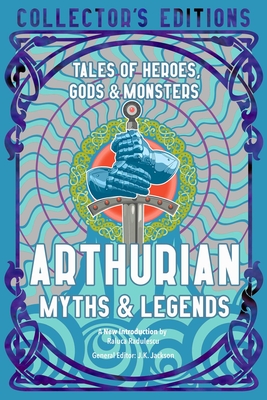 Arthurian Myths & Legends: Tales of Heroes, Gods & Monsters (Flame Tree Collector's Editions)
Publication Date:
March 14th, 2023
Publisher:
Flame Tree Collections
In Stock at Warehouse - Usually Arrives in 3-7 Days
Description
Beautiful edition with a new introduction to the tales of Arthur, the legendary figure who dominates the era after the Roman Empire, and the invasions of the Vikings.
Gorgeous Collector's Edition. Many medieval writers, especially from France and Wales, wrote stories about the great British leader, King Arthur. Legends, folklore and myths from this period come together to paint a picture of who he was with some describing him as a great warrior, defending Britain from its enemies, while others suggest Arthur had magical qualities. Throughout this mystery, King Arthur has become an iconic figure, known for his court and knights and his chivalric adventures. This collection offers a selection of myths, featuring Arthur's knights of the round table, his love for Queen Guinevere and of course the ultimate betrayal by his most trusted knight, Sir Lancelot.
Flame Tree Collector's Editions present the foundations of speculative fiction, authors, myths and tales without which the imaginative literature of the twentieth century would not exist, bringing the best, most influential and most fascinating works into a striking and collectable library. Each book features a new introduction and a Glossary of Terms.