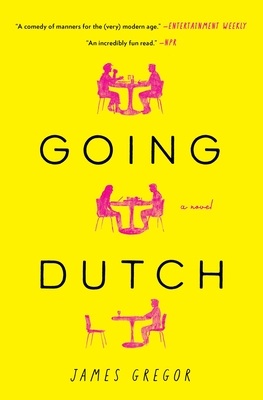 Going Dutch: A Novel
Publication Date:
July 21st, 2020
Publisher:
Simon & Schuster
Charter Books
On hand, as of Nov 30 3:37am
(Fiction - General)
On Our Shelves Now
Description
ONE OF ENTERTAINMENT WEEKLY'S 10 BEST DEBUT NOVELS OF THE YEAR
"A charming, well-observed debut," (NPR) featuring a gay male graduate student who falls for his brilliant female classmate, "you'll tear through this tale of a thoroughly modern love triangle" (Entertainment Weekly).
Exhausted by dead-end forays in the gay dating scene, surrounded constantly by friends but deeply lonely in New York City, and drifting into academic abyss, twenty-something graduate student Richard has plenty of sources of anxiety. But at the forefront is his crippling writer's block, which threatens daily to derail his graduate funding and leave Richard poor, directionless, and desperately single.
Enter Anne: his brilliant classmate who offers to "help" Richard write his papers in exchange for his company, despite Richard's fairly obvious sexual orientation. Still, he needs her help, and it doesn't hurt that Anne has folded Richard into her abundant lifestyle. What begins as an initially transactional relationship blooms gradually into something more complex.
But then a one-swipe-stand with an attractive, successful lawyer named Blake becomes serious, and Richard suddenly finds himself unable to detach from Anne, entangled in her web of privilege, brilliance, and, oddly, her unabashed acceptance of Richard's flaws. As the two relationships reach points of serious commitment, Richard soon finds himself on a romantic and existential collision course—one that brings about surprising revelations.
"Intelligent, entertaining and elegantly written" (Adelle Waldman, author of The Love Affairs of Nathaniel P.) Going Dutch is an incisive portrait of relationships in an age of digital romantic abundance, but it's also a heartfelt and humorous exploration of love and sexuality, and a poignant meditation on the things emotionally ravenous people seek from and do to each other. "This marvelously witty take on dating in New York City and the blurry nature of desire announces Gregor as a fresh, electric new voice" (Publishers Weekly, starred review).
Praise for Going Dutch: A Novel
PRAISE FOR GOING DUTCH BY JAMES GREGOR 
"A book of deceptive ambitions, a breezy page-turner that, every few pages, slides in an observation that inspires some combination of laughter, mortification, and admiration. A witty and perceptive examination of contemporary social mores, you'll tear through this tale of a thoroughly modern love triangle. A comedy of manners for the (very) modern age."—ENTERTAINMENT WEEKLY (Most Anticipated for Summer 2019)
"A dizzyingly satirical tapestry of the absurdities of contemporary urban life and love....Going Dutch is also just really, really funny."—ENTERTAINMENT WEEKLY (Best Debut Novels of 2019)
"A charming, well-observed debut. While the plot and the characters and the relationships in the novel are deeply engaging, what stuck out to me even more was Gregor's writing itself. [Gregor's] mix of old-fashioned style and contemporary setting makes Going Dutch an incredibly fun read, even in its most tragic moments, when Richard is at his most infuriatingly resistant to change. I can't wait to see what Gregor writes next."—NPR
"A sardonic, procrastinating PhD candidate gets close to a classmate and questions his own sexuality in Gregor's excellent debut. Filled with pithy secondary characters…Gregor's on-the-nose depiction of New York liberal intelligentsia makes for wonderful satire. This marvelously witty take on dating in New York City and the blurry nature of desire announces Gregor as a fresh, electric new voice."—PUBLISHERS WEEKLY (STARRED REVIEW)
"Going Dutch is a sharp, endearing update of the love-triangle rom-com, and Gregor's depiction of millennial New York is masterful. It's an exciting debut, and will leave you eager for more."—BUZZFEED (Most Anticipated for Summer 2019)
"When we look back on the canon of modern dating-while-living-in-New-York escapades, Going Dutch will stand out as a vivid portrait of a life and time that — for many — feels almost too familiar. It's bleak out there. But at least the brunch is good."—BUZZFEED 
"If you need your main characters to take the moral high road, this one isn't for you. But if you're into existential questions, Seinfeld-level awkward-dating scenarios, and a little dark humor: Start reading."—GOOP
"Going Dutch is a feast for the senses. I found myself totally enthralled by its rich language and whip-smart observations. But the characters sparking off of one another—that is what kept me furiously turning the pages, hungry for more. [A] glorious debut novel...a smart and sometimes sardonic tale of queer couplings in the era of Grindr, obnoxious foodie culture, and millennial boredom."—CHICAGO REVIEW OF BOOKS
"A directionless grad student finds himself at the center of a bisexual love triangle in debut novelist Gregor's charmingly melancholy Brooklyn rom-com. Of course . . . Richard's double life must come crashing down, which it does, spectacularly. A deeply kind novel—all three characters are rich and complicated and human—[brimming with] biting observations of modern urban life."—KIRKUS REVIEWS
"Gregor's debut novel is a carefully observed story about desire, love, and dependence in contemporary New York. Readers will be swept up in Richard's life and love triangle, even as they wonder if he has any idea what he wants."—BOOKLIST 
"Going Dutch is a hilarious and relatable story that shows great promise for Gregor as a novelist. It plays around with the tropes and clichés of love triangle stories and 20-something arrested development stories in a fresh and engaging way. It's a perfect snapshot of academic and romantic life in the '10s that will hopefully resonate as time passes. After all, while some of these dating sites and apps will potentially fall into obscurity or be consigned to the digital mausoleum that all defunct sites and programs fall into, there will always remain that anxiety and allure that comes from branching out and trying to develop oneself as an adult, whether it involves writing about centuries-old literature or just figuring out the best place to get dinner on a Friday night in Brooklyn."—LAMBDA LITERARY
"Comedic and captivating...[Gregor] lays bare the protagonist's, and our own, motivations: how we are drawn to another person; how, consciously or not--and often for the wrong reasons--we become bound up with that person; and how we sometimes fail to make honest and authentic choices, due to cultural forces or personal baggage. It also raises the question of whether sexual attraction is destiny, and whether emotional intimacy can sustain a relationship. At the novel's center lies a mystery more complex and elusive than that of desire and identity: what makes two people want to be together?"—THE GAY & LESBIAN REVIEW
"In this intelligent, entertaining and elegantly written novel, James Gregor pulls off something many psychological novelists aspire to and few achieve: he convincingly captures the thinking of a character who earnestly sees himself as sympathetic, even as he behaves terribly. Without being intrusive, Gregor makes the reader see what his protagonist Richard can't—the way unexamined shame and insecurity drive his actions (and non-actions). Never have I read a book where I so badly wanted the smart, well-meaning but benighted hero to get a good therapist, ideally one as insightful as the author himself."—ADELLE WALDMAN, national bestselling author of The Love Affairs of Nathaniel P
"Be it the horrors of online dating, the absurdity of academia, or the dicey interplay of gender and class, I'm convinced there's nothing that escapes James Gregor's attention. Going Dutch is more than an assured debut—it's a novel packed with so much sly wisdom and charm that it'll leave you reeling. I devoured this book, and you will too."—GRANT GINDER, author of Honestly, We Meant Well and The People We Hate at the Wedding 
"Every once in a while a novel of simply unremitting goodness lands on your front porch and Going Dutch is one of the best of the best. James Gregor is a generous, funny, easy-going natural and this book sheds much light on how we live and love now."—GARY SHTEYNGART, New York Times bestselling author of Lake Success and Super Sad True Love Story
"Going Dutch is my favorite kind of novel—smart, insightful, and brimming with sly humor. James Gregor explores the complexity of contemporary life with honesty and welcome cynicism, while still allowing for the possibility of love. This novel left me edified, entertained, and eagerly waiting to see what the author comes up with next."—STEPHEN McCAULEY, author of My Ex-Life
"In this satisfying, plot-driven, and utterly adult novel about a bisexual love triangle, James Gregor has created a bitter black comedy set in the trenches of dating both on and off-line in 21st century New York City. Going Dutch is trenchant and kind, witty and devastating. As a debut work of fiction it is a knock-out."—CHARLOTTE SILVER, author of Bennington Girls Are Easy