Staff Pick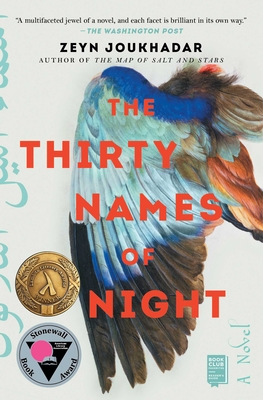 The Thirty Names of Night: A Novel
Publication Date:
July 13th, 2021
Charter Books
On hand, as of Dec 2 2:07am
(Fiction - General)
On Our Shelves Now
Staff Reviews
Searching for his name, Thirty Names of Night follows a closeted trans boy in the aftermath of his mother's death. Sneaking out at night to paint in the lost world of little Syria, he stumbles upon the journal of an artist whose disappearance decades earlier may intersect with his own family history and the community he's striving to find his place in.
— Amy
An affecting, multigenerational coming-of-age story about a young Syrian American artist's discovery of self and the truth behind his mother's mysterious passing. Featuring alternating perspectives that weave the past into the present, this novel embodies the epistolary not just in form and address, but in the way it reads like a love letter to New York City, especially the immigrant, working-class, and LGBTQ underground of New York. A book with a heartbeat, despite all its ghosts.
December 2020 Indie Next List
Description
Winner of the Lambda Literary Award for Transgender Fiction
Winner of the ALA Stonewall Book Award—Barbara Gittings Literature Award
Named Best Book of the Year by Bustle
Named Most Anticipated Book of the Year by The Millions, Electric Literature, and HuffPost
​​From the award-winning author of The Map of Salt and Stars, a new novel about three generations of Syrian Americans haunted by a mysterious species of bird and the truths they carry close to their hearts—a "vivid exploration of loss, art, queer and trans communities, and the persistence of history. Often tender, always engrossing, The Thirty Names of Night is a feat" (R.O. Kwon, author of The Incendiaries).
Five years after a suspicious fire killed his ornithologist mother, a closeted Syrian American trans boy sheds his birth name and searches for a new one. As his grandmother's sole caretaker, he spends his days cooped up in their apartment, avoiding his neighborhood masjid, his estranged sister, and even his best friend (who also happens to be his longtime crush). The only time he feels truly free is when he slips out at night to paint murals on buildings in the once-thriving Manhattan neighborhood known as Little Syria, but he's been struggling ever since his mother's ghost began visiting him each evening.
One night, he enters the abandoned community house and finds the tattered journal of a Syrian American artist named Laila Z, who dedicated her career to painting birds. She mysteriously disappeared more than sixty years before, but her journal contains proof that both his mother and Laila Z encountered the same rare bird before their deaths. In fact, Laila Z's past is intimately tied to his mother's in ways he never could have expected. Even more surprising, Laila Z's story reveals the histories of queer and transgender people within his own community that he never knew. Realizing that he isn't and has never been alone, he has the courage to claim a new name: Nadir, an Arabic name meaning rare.
As unprecedented numbers of birds are mysteriously drawn to the New York City skies, Nadir enlists the help of his family and friends to unravel what happened to Laila Z and the rare bird his mother died trying to save. Following his mother's ghost, he uncovers the silences kept in the name of survival by his own community, his own family, and within himself, and discovers the family that was there all along.
Featuring Zeyn Joukhadar's signature "folkloric, lyrical, and emotionally intense...gorgeous and alive" (Kirkus Reviews, starred review) storytelling, The Thirty Names of Night is a "stunning…vivid, visceral, and urgent" (Booklist, starred review) exploration of loss, memory, migration, and identity.
Praise for The Thirty Names of Night: A Novel
"With tinges of magic realism and beautifully rendered descriptions of birds flitting in and out of characters' lives…The Thirty Names of Night stands out for its lyrical quality."
— The New York Times Book Review
"The Thirty Names of Night is a multifaceted jewel of a novel and each facet is brilliant in its own way....Joukhadar is a richly poetic writer…This incredibly courageous novel, full of suspense and discoveries, reminds us of the dignity we all deserve and the pain suffered by those who still feel the need to hide themselves."
— Washington Post
"Joukhadar's prose is poetic and painterly, mirroring the artistic bent of its narrator, and the book is ultimately a joyful one"."
— San Francisco Chronicle
"Zeyn Joukhadar's new book is a vivid exploration of loss, art, queer and trans communities, and the persistence of history. Often tender, always engrossing, The Thirty Names of Night is a feat."
— R.O. Kwon, author of The Incendiaries
"Evocative and beautifully written, reading this is like opening a treasure trove of memories and images that shimmer both with light and the darkness of our times. It addresses important issues of migration, belonging, sexuality and love."
— Christy Lefteri, author of The Beekeeper of Aleppo
"Long after the story ended, I remain haunted by Zeyn Joukhadar's novel, The Thirty Names of Night: part ghost story, part history, part art, all magic. Using gorgeous prose, Joukhadar deftly takes the reader on a journey of migration and belonging, explores the price of silence and of secrets, and tells an exquisite tale of family and love."
— Devi S. Laskar, author of The Atlas of Reds and Blues
"The Thirty Names of Night crafts a gorgeous new subgenre of poetic-reality.  In Joukhadar's intensely atmospheric New York, the portal to a universe of information is not technology, but ornithology.  A lush, passionate eco-urban fable, and a truly glorious book." 
— Jordy Rosenberg, author of Confessions of the Fox
"A fable of being and belonging....Joukhadar's prose style--folkloric, lyrical, and emotionally intense--creates its own atmosphere.  Gorgeous and alive."
— Kirkus Reviews, starred review
"Stunning...vivid, visceral, and urgent....This clarifying and moving tale has far-reaching significance and appeal."
— Booklist, starred review
"Quietly lyrical and richly imaginative...this is a stirring portrait of an artist as a young man."
— Publishers Weekly