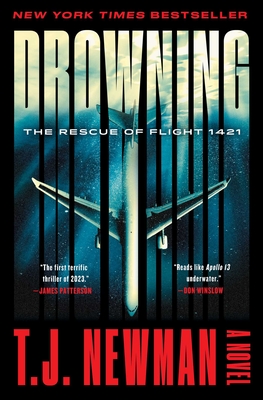 Drowning: The Rescue of Flight 1421 (A Novel)
Publication Date:
May 30th, 2023
Publisher:
Avid Reader Press / Simon & Schuster
Charter Books
On hand, as of Nov 30 3:37am
(Mystery & Suspense)
On Our Shelves Now
This book should come with its own oxygen mask. Numerous times I had to remind myself to keep breathing as I raced through the heart-pounding pages. No one does suspense like T. J. Newman andDrowningmakes this a fact.
June 2023 Indie Next List
Description
NEW YORK TIMES BESTSELLER * SOON TO BE A MAJOR MOTION PICTURE FROM WARNER BROTHERS PICTURES * "Reads like Apollo 13 underwater." —Don Winslow * "Masterful." —Patricia Cornwell * "A stunningly vivid tour de force!" Gripping. Shocking." —Brad Thor
Flight attendant turned New York Times bestselling author T. J. Newman's adrenaline-fueled thriller about a commercial jetliner that crashes into the ocean and sinks to the bottom with passengers trapped inside—and the extraordinary rescue operation to save them.
Six minutes after takeoff, Flight 1421 crashes into the Pacific Ocean. During the evacuation, an engine explodes and the plane is flooded. Those still alive are forced to close the doors—but it's too late. The plane sinks to the bottom with twelve passengers trapped inside.
More than two hundred feet below the surface, engineer Will Kent and his eleven-year-old daughter Shannon are waist-deep in water and fighting for their lives.
Their only chance at survival is an elite rescue team on the surface led by professional diver Chris Kent—Shannon's mother and Will's soon-to-be ex-wife—who must work together with Will to find a way to save their daughter and rescue the passengers from the sealed airplane, which is now teetering on the edge of an undersea cliff.
There's not much time. There's even less air.
With devastating emotional power and heart-stopping suspense, Drowning is an unforgettable thriller about a family's desperate fight to save themselves and the people trapped with them—against impossible odds.
Praise for Drowning: The Rescue of Flight 1421 (A Novel)
SOON TO BE A MAJOR MOTION PICTURE FROM WARNER BROTHERS PICTURES
Good Morning America Buzz Pick
USA Today Book Club Pick
Entertainment Weekly: The 27 Best New Books to Take on Your 2023 Summer Vacation
Los Angeles Times: 11 Books to Get Excited About This Summer
Town & Country: The Best Books to Read This May
Good Morning America: 15 Fresh Books to Get Lost in This May
Goodreads: Big Mysteries of May
USA Today: 5 Books Not to Miss This Week
New York Post: 28 Books to Bring to the Beach This Summer
June Indie Next List
Vulture: 6 Great Audiobooks This Month
Library Journal: 19 Beach Reads to While Away the Summer
Real Book Spy:  May 2023 Reading Guide
Crime Reads: The Best New Fiction Coming Out This May
Katie Couric Media: 30 Summer Novels Set Seaside
Maria Shriver Sunday Paper: Books of the Week
Sydney Morning Herald: Best Releases Coming Our Way
AARP: 32 of 2023's Hot Summer Novels
"This is a thriller to the core, one that readers will want to finish in a single sitting. . . . Ruthlessly suspenseful, guaranteed to remain in a reader's mind long after the last page is turned . . . Readers will discover early on that no one in this book is safe. The passengers' experiences come to life with visceral intensity. . . . Seemingly every sentence intensifies the dire predicament her characters face. . . . The readers who took a chance on her debut will find much of what they loved in this follow-up—brisk storytelling, masterful suspense, and the chance to vicariously peer into a nightmarish situation from which heroes emerge."
—The Washington Post
"The reader cannot look away. . . . The pace is blinding, the suspense electrifying, the human drama impassioned. Drowning may not be a book you want to read on a long flight—nor right before bed, unless you're prepared to stay up all night finishing it. Read it on the beach this summer with your feet in the sand, safe on dry ground where you belong."
—Los Angeles Times
"Taut, gripping . . . A spectacular aviation thriller that readers will be relieved to know is fiction."
—Kirkus Reviews (starred review)
"Stunning, emotional, and unforgettable. Drowning reads like Apollo 13 underwater."
—Don Winslow, New York Times bestselling author of City on Fire and The Border
"Drowning is the first terrific thriller of 2023. Honest. It has at least a dozen legit cliffhangers and a dozen huggable characters you can't stop rooting for. T. J. Newman has the goods. Make that the greats!"
—James Patterson
"Taut, pulse-pounding—and best read on dry land."
—Los Angeles Times
"Thanks, T. J. Newman, for making me not want to fly over water EVER again! Masterful."
—Patricia Cornwell
"A stunningly vivid tour de force! Gripping. Shocking. Heartbreaking. You will not be able to come up for air until the very last page!"
—Brad Thor, #1 New York Times bestselling author
"Drowning is pure adrenaline and all heart. Gripping, relentless, effortlessly assured, T. J. Newman's thriller is tense and moving. You'll be grabbed from page one as the crew and passengers of a downed airliner fight for survival and rescuers race to reach them. Drowning is an incredible ride—strap in, brace, and remember to breathe."
—Meg Gardiner, #1 New York Times bestselling author
"Drowning is The Poseidon Adventure meets The Martian. It is another can't-put-down, edge-of-your-seat thriller from T. J. Newman, one of our most exciting new authors."
—Adrian McKinty, New York Times bestselling author of The Chain and The Island
"The world of airline thrillers belongs to Newman in this follow-up to Falling, which is even better. The story has the beats for the perfect summer action film, let alone a beach read. Expect Newman to be drowning in sales and accolades."
—Library Journal (starred review)
"Riveting . . . T. J. Newman is back with another blockbuster, proving that Falling, her lights-out debut, was no fluke, but just the beginning of what should be a long, stellar career. . . . Drowning is the book that everyone will be talking about in 2023. . . . Each page is dripping with a plethora of emotions—ranging from fear to claustrophobia—all of them palpable and real, creating a reading experience that is truly unlike anything else in print today. And as you experience that rising crescendo of tension and suspense, two things become crystal clear: T. J. Newman is for real, and she's here to stay."
—The Real Book Spy
"Drowning by T. J. Newman is a remarkable novel with extraordinary writing, story, and characters. T. J. Newman is a gifted writer and I stayed up all night reading it."
—Dervla McTiernan, #1 internationally bestselling author of The Murder Rule, a 2022 New York Times Critics Choice Best Book of the Year
"Drowning is a full-throttle adrenaline rush, a relentless, full-speed thriller that will keep you riveted and breathless. Hang on tight for what's sure to become a classic summer smash hit."
—Eric Rickstad, New York Times bestselling author and author of I Am Not Who You Think I Am, a 2022 New York Times Critics Choice Best Book of the Year
Praise for Falling:
"The splashiest book debut of the summer."
—Entertainment Weekly
"The thriller of the summer."
—Dallas Morning News
"An unputdownable thriller that will take you on a wild ride full of twists and suspense."
—Good Morning America
"Summer's big thriller . . . The frenzy for Falling is understandable: At every turn, Newman cranks the tension in unexpected ways that still satisfy the thriller lust. Her insider's knowledge comes through in details that not only bolster the book's credibility but also catalyze the plot."
—Margaret Wappler, Los Angeles Times
"Terrifying . . . Buckle up for a chilling summer read."
—People (Best Books of the Week)
"A rich and assured debut . . . Emotionally complex in surprising and refreshing ways . . . Falling is expertly paced—if you were to begin reading this book at LAX, you'd finish it right as you began your descent into JFK."
—USA Today (3.5 out of 4 stars)
"A white-knuckle thrill ride."
—Newsweek